Tracking the Gran Turismo 5 Prologue

By
.(JavaScript must be enabled to view this email address)
April 25, 2008
|
Share

Del.icio.us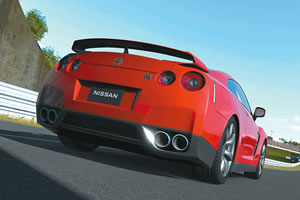 Sony Computer Entertainment America Inc. (SCEA) released Gran Turismo 5 Prologue for the PLAYSTATION 3 (PS3) last week. This is the fifth and latest installment of the Gran Turismo franchise, which has sold more than 48 million worldwide since its initial release 10 years ago. Gran Turismo has always been one of my favorite racing games, so you can imagine how thrilled I was to pop this into my PS3,not to mention it's been a long wait since Gran Turismo 4 came out in 2005.
"Ten years after the Gran Turismo series debuted on PS one, Gran Turismo 5 Prologue arrives exclusively on PS3 as the most technologically advanced racing simulator on any platform," said Jeff Reese, director, Software Marketing, SCEA. "With a great vehicle roster, unprecedented realism, online racing and support for the new DUALSHOCK3 wireless controller, this is the Gran Turismo fans have been waiting for."
At first glance,I noticed how shiny the cars are as a result of how good the rendering is. I wish my own car would gleam and look that perfect in real life. You can see intricate details on the vehicles as well as nearly perfect,picturesque backgrounds (i.e. Mount Fuji). I'm not really that surprised, since the game runs in High Definition 1080p and it shows off the power of your PS3.
A first for any Gran Turismo game, online racing is supported in this release. You can play online with up to 15 other drivers (16 drivers simultaneously). When you're going head-to-head against someone in your living room, you'll see the split screen activate. About 70 cars, including high-performance cars from Ferrari, Audi, Nissan and Mitsubishi,are available to unlock and race. Choose from six realistic tracks including a London City Track, Daytona International Speedway, Suzuka Circuit and High Speed Ring.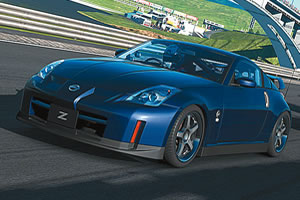 When you're in Arcade Mode, you'll be able to practice your drifting technique. It's measured based on drift angles, racing lines and speeds within evaluation zones located at different turns on the course. Once you unlock the In-Depth Car Tuning feature, you'll have the capability to adjust your vehicle's performance, including power, weight, tires and suspension.
As you're driving,the new in-cockpit view provides a cool perspective and features a customized dashboard for each car.It has real-time gauges and human animations that accurately represent the true performance of each vehicle. You can actually feel a marked difference between the cars. To further extend the realistic experience, Prologue also is compatible with the new DUALSHOCK 3 controller that has vibration functionality. Soon Logitech's Driving Force GT wheel will also be out - it's the official wheel of Gran Turismo.
If you're new to Gran Turismo you may not notice, but there is a new physics engine that gives you more realism (from previous Gran Turismos) and authentic handling specific to each car. You'll see the "Standard"mode for easier driving, and the "Professional"mode,which makes the driving as realistic as possible. Furthermore, the improved opponent AI gives you a more strategic racing experience.Basically for beginners, the improved assist mode is the best I've seen in a Gran Turismo release.You'll see an indicator for the racing line, and when you need to brake.
My biggest gripe is the fact that there are only six tracks.I wish there were more.When you're doing single-player,you'll spend most of your time on only three of them. Additionally, when you hit something, the amount of damage on your vehicle isn't very realistic and, with the online play, you can't really track your friends or plan a race.
But I think the game looks absolutely stunning as the car models are nearly true to real life and the details on the tracks are amazing. Keep in mind this installment is an enhanced demo, which is why it's shorter than a normal Gran Turismo and much cheaper.
You can download Gran Turismo 5 Prologue from the PLAYSTATION Store (direct from your PS3) or you can find it at your nearest GameStop (www.gamestop.com), Best Buy (www.bestbuy.com) or on www.amazon.com. The download and the Blu-ray Disk (BD) are both $39.99, but if you purchase the BD, you'll have the opportunity to watch a behind-the-scenes HD feature called "Beyond the Apex," taking a look at the Gran Turismo franchise - it's pretty neat to watch. The BD is definitely worth it.
Most Recent Comment(s):