Translating Chinese With Ease

By
.(JavaScript must be enabled to view this email address)
August 20, 2008
|
Share

Del.icio.us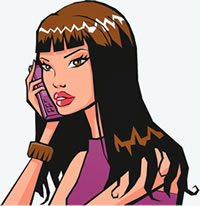 There's no doubt that the best way to find your way around a foreign country is to actually learn the native language, or have someone with you who speaks it fluently.
When you don't have that luxury, the next best thing is an electronic translator, dictionary or cheat sheet of frequently used phrases.
Cutting all that out and revolutionizing language translation is the recent launch of jahjah BABEL, a real-time, free phone translation service. At the moment, Chinese Mandarin is the only language available - perfect timing for travelers (with international cell phone service) to this year's Beijing Olympics.
"Jahjah was built to bring down barriers to global communication through high quality, low-cost calls available from any phone, any network, anywhere. And now with jahjah BABEL, we are removing the language barrier and providing a valuable service to anyone traveling to Beijing this summer," says jahjah co-founder Daniel Mattes.
Jahjah BABEL is the latest breakthrough in jahjah's mission to remove the barriers of global communication. The idea is to rid yourself of those translation books and spare the hand gestures so you can just call a number, say your message in English and hear it back in Mandarin. In reversal, it works for Mandarin speakers wanting a statement translated into English. Your phone is transformed into a communication bridge.

Using jahjah BABEL is simple, and can be used from any phone line:
* Dial jahjah BABEL from any phone: U.S. access number 1-718-513-2969, or China access number: 021-5129-4632.
* Choose which language you want your message translated to (English to Chinese or Chinese to English).
* Say your message and press #.
* Confirm that your message was properly understood by the system.
Your message will automatically be played back in Chinese. The easiest thing to do is hand your phone over to the individual you're trying to talk to (or play it over speakerphone).
The other person can then record their message in Chinese, and you'll hear it back in English.
Since I'm more of a (broken) Cantonese speaker, I asked my Mandarin-speaking friend Walan to test it out with a variety of phrases - both easy and difficult. One of the first things she recited to it in English was "I want to buy a cell phone." This was one of the only phrases that translated completely accurately into Mandarin after only having to say it once. However, it could not translate, "My car's engine is having a problem," from Mandarin to English. She had to repeat most of the phrases an average of four times.
Walan's conclusion is that it definitely has an easier time translating from English to Mandarin than it does Mandarin to English. It also depends on the phrases, individual words, your intonation, interdiction, accent, etc. and how the system recognizes your voice. If you slur your words, you'll have to repeat yourself over and over again, too. Still, not bad at all for free! For the simple things that most travelers require, it'll pull you through. You just need to make sure your cell phone works in your destination.
No other free service provides you with real-time translations at the end of a phone. You'll just have to worry about paying for any international/roaming charges on your phone, and not the translation services. Other languages will become available in the coming months. Visit www.jajahbabel.com for more information.
Most Recent Comment(s):