Turbo Charging Cell Batteries

By
.(JavaScript must be enabled to view this email address)
June 23, 2006
|
Share

Del.icio.us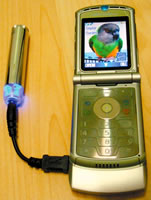 Turbo Charge
When it rains it pours - there are some days when my cell phone rings off the hook and everybody and their brother calls me one after another, burning out my battery. When I'm having one of those days while out and about, my phone battery just dies. Sure, there are disposable cell booster chargers available for $10-plus, but I'm too cheap to buy those since you just throw them away and they don't last very long anyway. But now there's a charger you can use over and over again with AA batteries.
The Turbo Charge is a reusable, portable cell phone charger that is powered by a single AA battery. It is about the size of a lipstick tube, and easily fits into your purse or pocket. It's a perfect companion for a day at the beach, hiking in the mountains, or anywhere you can think of. Also, if your power goes out, this device is an excellent addition to your home's emergency or hurricane preparation kit. You could power your cell phone with a bunch of AA batteries if you had to.
Turbo Charge is guaranteed to not damage your cell phone or its battery.
The device has a tiny circuit board with custom Dual AlgorChip technology to prevent overloading your cell phone's battery. Once you plug it into your cell phone, the AA battery inside will give you about two hours of talking or 40 hours of standby time. You will know to change the battery when the blue light no longer illuminates.
Since it's so small, you can continue your phone conversations with the contraption hanging right off the phone. Never again will you lose a call to a dead battery while you're taking in some sun at the beach.
The Turbo Charge pack includes one Turbo Charger, one AA battery and your choice of four adapters. The first package is for Motorola, Motorola Razr, LG and Kyocera. The other is for Nokia, Samsung, Sony Ericsson and Nextel. Also hitting the market is the iTurbo, an iPod backup battery booster. No price was released on this yet, but you should see it around September.
Mr. Ink Plus is the only place in Hawaii to stock the Turbo Charge (and also the future iPod Back-up Battery Booster). Make your way there and find one for an affordable $19.95 (plus tax). Mr. Ink Plus is located at 670 Auahi St. (behind CompUSA on Ala Moana Boulevard). You can also buy the Turbo Charge online (www.turbocellcharge.com), but it will cost you $29.95 plus shipping.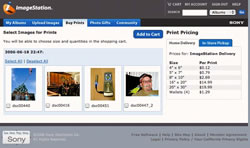 Print Your Digital Pictures At Any Longs Drugs
Store
Print Your Digital Pictures At Any Longs Drugs Store. As far back as I can remember my parents always took our film to be developed and photos printed at Longs Drugs. If I ask most of the people I know who grew up in Hawaii, it seems to be that same story across the board. I admit in the last few years, with digital prints being the norm, I haven't printed any pictures at Longs - instead, I've been using various online services to print my pictures. You may even remember me writing a story about digital printing and Shutterfly's services.
The worlds of past and present have come together with Longs Drugs Stores and Sony Electronics. You can upload your digital photos to Sony's ImageStation website and pick them up at the Longs closest to you. ImageStation is an online photo service that allows you to upload, store and share your digital images and video clips online. You can upload your digital images directly from your computer to ImageStation and pick up your prints at any Longs Drugs store in the state (and on the West Coast). You can also have your prints sent to you, but you'll have to pay extra for shipping.
This partnership with Longs provides you with the ease and convenience of printing your digital photos directly to a professional photo lab. Busy households and photographers alike now have more options for digital prints. You can create wallet-size, 4-by-6, 5-by-7 or 8-by-10 prints of your favorite photos at competitive prices. A single 4-by-6 print will cost you only 12 cents. The 5-by-7 is 79 cents, 8-by-10 is $2.69, 16-by-20 is $14.99, 20-by-30 is $19.99 and the wallet size (four on a sheet) is $1.29. These prices are comparable with most places, but you have the added convenience of choosing from any of Longs Drugs' 477 store locations. You could be visiting Disneyland in California and print your memories from a Longs Drugs Store there, if you so choose.
You can store photos on your ImageStation account and use it to share with friends and family. They can then order your photos directly online as well. If you have multiple pictures to upload, ImageStation provides different upload options, including an uploader tool (your choice of Windows or Mac).
Additionally, all prints are available for pickup at the Longs of your choice. But if you're interested in photo gifts, those have to be delivered to you from ImageStation directly. Gift items include mugs, T-shirts, flipbooks, handbags, calendars and greeting cards.
Sign up for Sony's free ImageStation service at www.imagestation.com.
Most Recent Comment(s):