Turning Your Laptop Into A GPS

By
.(JavaScript must be enabled to view this email address)
September 26, 2007
|
Share

Del.icio.us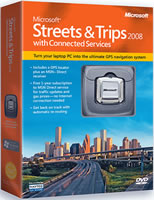 On the local scene, people who drive around often to different, unfamiliar places for their jobs (i.e. Realtors), a map book (if you're old school) or a Global Positioning System (GPS) is nearly vital to find your way around, even on our little island.
The rest of us who live here usually only need these for off-island trips to the Mainland or abroad.
That in mind, Microsoft recently announced the latest Streets & Trips 2008 With Connected Services. This takes away the need to spend boatloads of money on a single GPS device that could cost you half a grand (or more) of your hard-earned moolah. This piece of software, along with the included SiRFstar III locator you plug into your USB port, turns your PC laptop into a portable GPS.
The highlighted new features with this release include traffic updates, gas information, automatic re-routing and perspective map view. Through MSN Direct, receive traffic updates with construction and incident information so you can avoid unexpected delays. Running on fumes? The gas information helps you locate the nearest gas station without having to be hooked up to an Internet connection.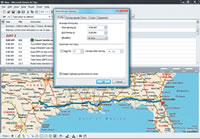 The re-routing feature is a woman's best friend. If you took a wrong turn and lost your way, this automatic re-routing will help you go back in the correct direction (similar to what a Garmin or TomTom GPS would do). It takes awhile for it to notice you're off track, perhaps after you passed it 300-400 feet. I guess that's one of the benefits you receive by paying more for a full-on GPS. Those will recalculate your route almost immediately.
One of my favorites is the perspective map view, since it gives you a similar look at what you would see through the windshield of your car. This is basically a 3D-view, and extremely helpful since you can see more details of your immediate surroundings, and you can see farther ahead with fewer details. On a regular 2D map, you would have to zoom out to see more of the details. You can adjust the zoom levels from one mile to 28 miles with the perspective view.
In addition to these, here are some of the previous features that are still included: spoken directions - you don't have to continually look down at your screen; full-screen map view; driving guidance; updated mapping data; dynamic turn view - automatically zooms into the current position; night map
style for enhanced views of maps and directions for easy reading in the dark, and too many more to list.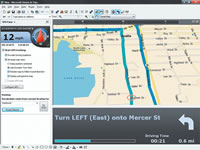 Although Microsoft has had map software out for about 10 years, this is first time I tried it, and enjoyed playing with it. It's a nice little software package! Its only drawback for me is that it is not available for the Mac, but if you have a PC laptop you travel with often, this is perfect. For me, at home, I can't really take full advantage of the capabilities, but I will definitely take this with me on our next road trip on the Mainland in a few months.
Microsoft Streets & Trips 2008 With Connected Services is compatible with Microsoft XP or Vista, and retails for $179.99. Slightly cheaper options (with not as many features) are Microsoft Streets & Trips with GPS Locator ($99.95), Streets & Trips ($39.95) and AutoRoute 2007 ($39.95) for your European travel.
For more information on all the options, check out www.microsoft.com/streets. To purchase, find it at your nearest Best Buy (www.bestbuy.com), CompUSA (www.compusa.com) or at www.amazon.com
Most Recent Comment(s):