TV surround sound from just one speaker

By
.(JavaScript must be enabled to view this email address)
January 04, 2008
|
Share

Del.icio.us

Since my husband and I moved into our new house about a year ago, all this time we never did set up a good sound system for our TV. Part of that was because of laziness, and we were also looking/waiting for the right sound component for TV while trying to keep the bank account intact.
A perfect excuse to speed up the whole process was the Sugar Bowl.
Although we're loyal UH season ticket holders, we weren't able to fly there to enjoy the game in person. Soooo, the next best thing was to watch it in the comfort of our living room with some kick butt sounds. The perfect match for our TV and living room was Yamaha's YSP-3000 Digital Sound Projector, since it doesn't take up much space.
Some background for you to know ...a digital sound projector is different from a speaker system, since it allows you to enjoy surround sound without having speakers all over the room. It is a single unit that has multiple small speakers, each with its own digital amplifier, and the sound is focused into "beams" with controlled delay times. This tricks your ears to perceive the sound to be coming from additional speakers placed throughout the room, but it's really only coming from this one piece.
The time delay of each speaker driver is controlled by a Digital Sound Projection circuit, which enables the system to project the sound "beams" and precisely aimed for optimum sound effect. The direct and is reflected sound waves then produce true multi-channel sound to fill your house.
The setup was easy, but still a tad bit more complicated than setting up a regular speaker. You have to place the included microphone in the middle of your room and allow it to automatically calibrate. By monitoring and analyzing your ambient sound, the IntelliBeam automatically sets the best beam angles, while optimizing the level and frequency response of each beam. The trick to the calibration is you do need the room to be absolutely silent for three minutes, which could be a challenge if you have any loud children or pets around.
The YSP-3000 is just one of a few of Yamaha's Digital Sound Projectors (other models are the top-of-the-line YSP-4000 or YSP-900). The 3000 features 21 built-in beam drivers and two built-in woofers with 23 corresponding digital amplifiers and three Cinema DSP modes.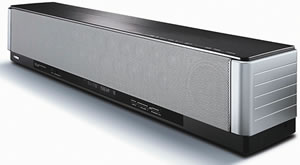 It has a 1080p compatible HDMI interface with two inputs and one output to plug in your other digital home theater components.
Additionally, it has an FM tuner and an iPod dock. When your iPod is docked-in, you can watch and listen to your collection on your TV in all its glory. Each of the YSP models offer additional sound settings, including 5-Beam Mode, 3-Beam Mode, Stereo+3-Beam Mode, and My Beam Mode, which allows you to focus the sound to a specific position without disturbing others in your house. I currently have mine set to the 5-Beam Mode, and you can hear it clearly all over the house.
Sound support for all three YSPs includes Dolby Digital, DTS, Dolby Pro Logic III and DTS Neo:6. Yamaha's CINEMA DSP technology creates realistic soundscapes in any room, and for those late night movies, there's a Night Listening Enhancer mode that allows dialog and quiet passages to be heard clearly, even at low volumes. The TV Equal
Volume mode prevents sudden bursts of sound from TV programs and commercials that tend to sound louder. Moreover, all three feature SRS TruBass technology to provide exceptionally deep and rich bass through the slimly designed subwoofers.
The YSP-3000 is $995.95 (available in silver or black) at www.amazon.com. This price tag may sound slightly intimidating, but it's well worth it, considering what you would pay for a Bose system.
I'm happy with mine, and at this writing don't know who will win the Sugar Bowl, but at least the sound for my TV is ready for the big game!
Most Recent Comment(s):