UH Offers Free eWaste Disposal

By
.(JavaScript must be enabled to view this email address)
October 15, 2008
|
Share

Del.icio.us
People always tell me they would want to come to my house if I ever had a garage sale since they know I would have "the good stuff."
I guess that could be logical thinking considering all the toys I write about, but realistically I don't have as much as one might think. I'll typically hold onto things until they die, or if there's something I'm not using that I know a friend or family member really wants, I'll sell or give it to them (depending on what it is). If I use it to its end of life, I definitely recycle it.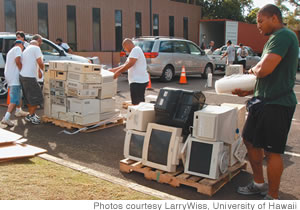 Speaking of which, coming up in a couple of weeks we'll all have the opportunity to recycle our electronic waste thanks to the University of Hawaii's "Education & Government eWaste Disposal Days 2008." This is open to all, including public and private schools, city, county, state or federal/military branches in Hawaii, and small- to medium-sized businesses (with less than 100 employees) and nonprofit agencies. The drop-off days will be between Oct. 20 and Oct. 25.
The general public can drop off their waste Saturday, Oct. 25, at the University of Hawaii at Manoa, Leeward Community College or Windward Community College on Oahu. Neighbor Island drop-off points include University of Hawaii at Hilo, Kauai Community College, Maui Community College and Kealakehe High School (Big Island). The business/institutional drop-offs will be Oct. 20-24, but please pre-register here: www.hawaii.edu/waste/inst.php.
Take advantage of this event, if you can, since it's a rare chance for free, safe and environmentally friendly disposal of your eWaste. The recycling and disposal services will be provided courtesy of Apple. All equipment will be responsibly
processed in North America and recycled into commodity grade metals, plastics and glass. A tip: If you're including a hard drive, remember to erase your information off it first.
Here are the acceptable and nonacceptable items:
ACCEPTABLE eWaste Items: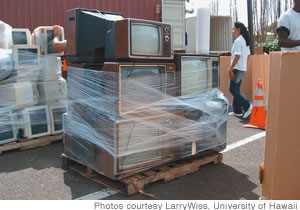 Computer Systems & Accessories:
All-in-Ones CPUs CRT Monitors Hard Drives Hubs Keyboards & Mice Laptops LCD Displays Optical Drives Servers Speakers Switches UPS Switches Wires & Cables Handhelds: Cell Phones Pagers PDAs Two Way Radios Office Equipment: Adding Machines Fax Machines Photo Copiers Printers Scanners Surge Protectors Telephones Typewriters Audio & video equipment: Camcorders Cameras DVDs Game Systems LCD Projectors
Overhead Projectors Radios Stereos Televisions VCRs
DO NOT BRING:
Batteries not integral to computer system
Cardboard Contaminated equipment of any type
Cracked or broken CRTMonitors
Hairdryers Hazardous Materials of any type
Household Appliances Microwaves Paper Smoke Detectors Styrofoam Visit www.hawaii.edu/ewaste for more information.
Most Recent Comment(s):