Underwater Tunes

By
.(JavaScript must be enabled to view this email address)
November 04, 2009
|
Share

Del.icio.us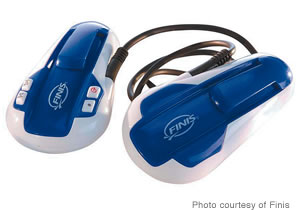 If you're a lap swimmer, you know that going back and forth in the pool can be monotonous. I always enjoy listening to music while I'm running, but swimming?
Yep, it's possible. Finis' SwiMP3 is designed for you swimmers out there.
The SwiMP3 is a waterproof mp3 player that is created with a unique sound transfer feature that gives you underwater sound clarity. It uses a patented bone-conduction technology that vibrates from your cheekbone to your inner ear so you can hear it clearly underwater.
At first I was a bit skeptical that this thing would actually work as advertised - water and electronics usually don't play well together. To produce decent sound underwater, you need to turn up the volume very loud. Out of the water, you can barely hear it. Don't even try to compare the sound quality to a regular mp3 player - heck, it's a music player that works underwater!
SwiMP3 comes with its own media manager software, but it's not worth using. Loading your music is quite simple. When you plug your SwiMP3 into your computer, it shows up as any removable hard drive would (on a Mac or PC, mp3 or WMA files). If you're using iTunes, the SwiMP3 pops right up in there, too.
It connects to your computer with a USB connector, which also charges the device. It takes about three hours for a full charge, giving you approximately eight hours of playback. Additionally, it has 1GB of storage (approximately 240 songs).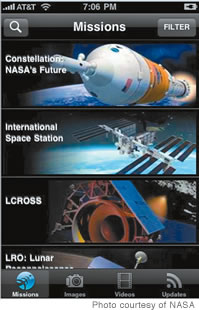 The headphones are very sturdy and clip right onto your goggles or mask. They also are surprisingly comfortable to wear, as they stay in place resting on your cheekbones. But I have a small issue with the buttons on the goggles - they're tiny, and it makes concentrating on your swim a bit distracting if you need to make adjustments to your tunes. The buttons on the goggles include on/off, volume, next/previous track, pause and shuffle functions.
The bottom line: Listening to your favorite songs takes the monotony out of swimming laps, and if you're a dedicated lap swimmer or triathlete, the SwiMP3 could be your new best friend. Find it online for $150 at Finisinc.com or Amazon.com.
Click Chick's iPhone: App of the Week: NASA
A couple weeks ago NASA released its first app for the iPhone/iPod touch. This is a dream come true for space geeks. You can see up-to-date space mission information with this all in one easy-to-use app.
NASA's app collects, customizes and delivers an extensive selection of dynamically updated information, images and videos from various sources. You can see NASA countdown clocks, the NASA Image of the Day, Astronomy Image of the Day, online videos, multiple Twitter feeds, track the positions of the International Space Station and see satellite imagery (with the option of overlaid with country borders/labels).
Not only is this app way cool, it's free at the iTunes Store. Note that it requires iPhone OS 3.0 or later.
Most Recent Comment(s):