Unwiring the world: Wireless Internet for all

By
.(JavaScript must be enabled to view this email address)
July 13, 2007
|
Share

Del.icio.us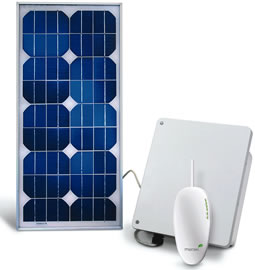 Meraki Solar Accessory
Some people are always looking around for open Internet connections for their computer (and other electronic devices).If you leave your Wi-Fi router un-password-protected on purpose, there is another alternative.You can join in the Meraki network using your Internet connection and easily give back to the community. With a special Meraki access point/repeater you can be a part of this movement, connect your community to the Internet and even be an Internet Service Provider (ISP) to your neighbors (if you so choose).
Formally launched a few months ago, Meraki Networks (partially funded by Google) is the pioneer of the first consumer wireless mesh Internet network designed to "unwire the world."The mission is to bring affordable Internet access to the next billion people.The thinking behind this approach is that wireless networking empowers individuals and groups to bring access to local communities anywhere in the world.
The name Meraki very much represents what the service is all about. It's a Greek word that means doing something with soul, creativity or love. As its namesake states, it allows easy spreading of affordable broadband access in your community.
This is very easy to set up - all you need to do is plug one of the affordable $49 Meraki repeaters (Meraki Mini router) into your existing broadband (cable modem or DSL connection). The typical range for a repeater is 100-150 feet for indoor and 300-750 feet for outdoors.
Once you have that in place, you can manage your network over the web with Dashboard, the simple control panel for the Meraki system.
With it you can keep track of dozens or hundreds of network users, set bandwidth limits, brand your network,or optionally charge your users for access. You can also keep an eye on your network at your leisure - make changes or view detailed data about usage in real time and diagnose network problems right away. Or, if you choose, you can just let your network be and it will optimize itself.
On top of that, Meraki just introduced the Meraki Outdoor repeater and Meraki Solar accessory. Together these can blanket entire neighborhoods with Wi-Fi access. The Meraki Outdoor goes for $99 and can send a signal up to 700 feet (6-18 miles with antenna). Paired with your existing Mini, this outdoor repeater can power dozens of households sharing one high-speed Internet connection. It also includes two 100 Mbit Ethernet ports, dual SSID (supports public and private networks on the same connection) and it's made with weatherproof plastic that is easy to mount.
"To change the economics of WiFi access across the globe,there's got to be a simple, efficient and inexpensive method for sending the signal long distances outdoors,"says Sanjit Biswas, CEO and co-founder of Meraki. "The Meraki Solar and Meraki Outdoor will play an important role in our efforts to bring the next billion people online in the coming years."
Adding on the Meraki Solar accessory kit allows your repeater to broadcast a signal without being connected to an electrical source. This makes it ideal for everywhere,especially places where electricity is not available. This is the first solar repeater for the consumer market and it regulates its own energy usage (provides up to 3x energy efficiency). The pricing has not been set yet, but will be set by the end of the summer and will be the most affordable option on the market.
The whole Meraki idea was conceived as a Massachusetts Institute of Technology (MIT) Ph.D.research project that provided wireless Internet access to graduate students. Today there are 1,000-plus Meraki networks up and running in more than 35 countries with 40,000 users.
Both the Meraki Outdoor and Meraki Solar are expected to ship late this summer. In the meantime, check out www.meraki.net to see some case studies and more information. Before you proceed with a purchase,you might want to check with your Internet service provider to make sure a Meraki device is acceptable to utilize with your plan.
Most Recent Comment(s):