Upconverting DVDs With Oppo

By
.(JavaScript must be enabled to view this email address)
September 19, 2007
|
Share

Del.icio.us
Before going further, I need to explain what a DVD upconverter does. In a nutshell, these devices allow digital information stored on your DVD to be transmitted directly to your high-definition TV (HDTV) and not have to be converted to an analog signal first. It usually takes the lowest screen resolution on a DVD and upconverts it to the higher resolution offered by an HDTV.
So an idea popped into my mind from recent discussions around my office about how the resolution of a Blu-ray (or HDDVD) player would compare to a good DVD upconverter player. Of course, the quality of an upconverter will not look exactly as a Blu-ray player would, but the questions posed are: Is it worth buying a Blu-ray player if the DVD upscaling looks really good on an upconverter? Those next generation Blu-ray/HDDVD disks are so expensive, so isn't it better to buy an upconverting DVD player rather than replace your entire DVD collection?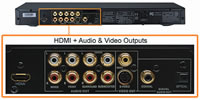 DV-981HD
The answers to those broad questions are yes and yes, if that makes sense. If you're already planning on buying a Blu-ray player or PlayStation 3 (comes with a built-in Blu-ray player), then you're set. But if you don't want to spend hundreds of dollars on a PS3 or a Blu-ray player, then an upconverter is definitely the way to go.
With that in mind, my husband and I actually took our PS3 and some Blu-ray movies he had in DVD format over to the boss' house to compare to the resolution on his Oppo DVD player. Side by side, we watched clips of a few movies and saw very subtle differences to the DVD play vs. the Blu-ray. The conclusion we came to is that since the difference is not that much, especially to most lay peoples' eyes, it's definitely worth an upscaler.
I know there are many DVD upscalers out there, but after that experience I wanted to review the latest Oppo player, the DV-981HD. As I popped it out of the box, one of the first things I noticed is that it comes with an HDMI cable. That alone impressed me! Those cables are not cheap, so most companies don't even bother to include it with the products. (By the way, do not ever buy an HDMI cable from a retail store - always buy it online. You'll pay much, much less.)
After getting everything situated and plugged in, I compared this Oppo to my PS3. Aesthetically speaking, it is fairly thin with a sleek black color, and a cool-looking blue glowy light. I fancy the blue glow, but I could see how it could annoy and distract others from their movie-watching experience. No problem if it disturbs you, you have the option to turn it on or off as desired.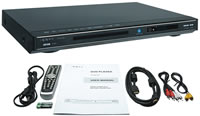 Accessories
The DV-981HD will upconvert your 720x480 interlaced video encoded DVDs to 480p/720p/1080i and 1080p. It plays all versions of DivX video (including DivX 6). XviD, .SRT, .SMI, .IDX and .SUB formats are supported as well. For you audio fanatics, Super Audio CD, DVD, SACD, mp3, HDCD are supported too. If you have any PAL disks (from outside North America), no worries - just enter the code 9210 after pulling up your setup menu, then 0 - that turns your 981-HD into a region-free player.
Your audio and video connectivity is more than sufficient with its HDMI output, since HDMI supports both. For other options, audio you have optical, coaxial, analog stereo and multi-channel outputs. Alternate video options include S-video and a composite video output.
Together, all these things make it an awesome, truly universal, just about do-it-all upconverter player. I would highly recommend purchasing this if you have no plans to purchase a Blu-ray or HD-DVD player in the near future.
You can find the Oppo DV-981HD at www.oppodigital.com for $229 (plus shipping). Unfortunately this particular Oppo model is not available locally, but you can order it from Amazon (www.amazon.com) with no shipping charge. Before you purchase this, make sure you have a TV that can support HDMI.
Most Recent Comment(s):