Using Air As A Mouse Pad

By
.(JavaScript must be enabled to view this email address)
August 29, 2007
|
Share

Del.icio.us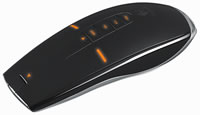 Last month my friends at Logitech came out with the most innovative mouse I've ever seen - the MX Air Rechargeable Cordless Air Mouse. The wizards at Logitech have removed the necessity of a desktop, flat surface or mouse pad that most of us are accustomed to.
MX Air uses a new technology called "Freespace motion control," which is a patented system based on a combination of MEMS (micro-electromechanical systems) sensors, DSP (digital signal processing) and RF (radio frequency). These combined traits allow you to hold the mouse in any orientation and point it in any direction while you enjoy intuitive cursor control.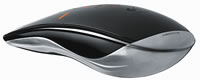 Freespace provides you fast, accurate and consistent responses regardless of your mouse's position relative to your computer. Whether you're sitting directly in front of your computer or far away from it while you're lounging on the couch, you can navigate through your computer while holding the mouse in midair. Or, flat back down on your desk, its polished black look gives you an eye-catching "regular" laser mouse to use for your everyday work and e-mails.
"The MX Air mouse offers a radically new way for people to control their PC entertainment," says Rory Dooley, Logitech senior vice president and general manager of the Control Devices business unit. "It's for anyone who has listened to music on their PC and been frustrated by having to return to the desk to change songs or volume. It's for people who want to share vacation photos with friends and family without being tied to the desk. It's for any of the millions of people using the Internet to browse and watch videos on sites such as YouTube or Grouper. And it's for people with a living-room computer or media PC who want to navigate their media content on their terms."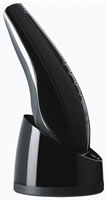 Recharging dock
The MX Air uses 2.4 Ghz wireless, giving you a range of 30 feet. It has a builtin lithium-ion rechargeable battery, which you can recharge in its small recharging dock. Additionally, instead of scrolling through things with a typical scroll wheel, it has a touch-sensitive scroll panel. At first it threw me a little off because you hear it clicking as your finger swipes over it, and the clicking keeps going. But you become used to it as the mouse adjusts according to how fast your finger swipes across the surface.
Media functions such as Play/Pause, Volume/Mute, Back and Select are easily accessed by pushing the large, orange back-lit buttons with your thumb. With the MX Air, gesture-based commands are a whole new ball of wax - you hold the volume button down as you gesture to the right to increase it or to the left to decrease it. For music, a small circular motion to the right is the skip track command, or a circle to the left repeats the song. This really reminds me of how the Nintendo Wii's controllers work.
The documentation says that the mouse is compatible with Windows XP and Vista, but it also works fine with my MacBook. Heck it even works with my PlayStation 3, and I can point it at my TV, click through the menus and surf the Internet. I adapted to the Freespace motion control right away, but I say give it at least a day to become fully used to it.
Logitech's MX Air Mouse is a tad bit expensive with its $149.99 price tag, but keep in mind for what it can do, it's worth every penny, especially if you're on your computer often. You can't find it at many places yet, but it is available at Amazon.com. To read up on it more, check out www.logitech.com.
Most Recent Comment(s):