Waiting for the iPhone 3G

By
.(JavaScript must be enabled to view this email address)
July 18, 2008
|
Share

Del.icio.us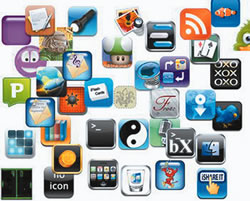 I decided to stand in line for the iPhone 3G at the Kahala Mall Apple Store (as I did with the first iPhone launch last year), knowing there would be less of a crowd there to deal with. My husband and I arrived there at about 5 a.m., along with about 15 people in front of us. First in line was lucky Patrick Wong (see picture).
We all waited three hours until the store's gate opened to loud cheers at 8 a.m.
After all that waiting, I was one of the unlucky ones who walked away with no iPhone 3G in-hand. Mahalo to Dan at the Apple Store - he was extremely helpful in trying to get us out of there with our new phones,but apparently AT&T's database wasn't communicating real-time with Apple's system, and the policy is to have the phone activated in-store.We were instructed to try the AT&T Store, but after driving past three with long lines outside, I really didn't feel up to standing in line anymore.
Additionally, we were not among the lucky ones who were allowed to just buy one and activate it at home because of the big glitch ...so here I am with no iPhone 3G yet. I think I'm going to wait a couple of weeks for things to settle down then go ahead and brave it again. Despite my experience and other stories similar, 1 million iPhone 3Gs were sold during opening weekend. In comparison, it took 74 days for the first iPhone to sell 1 million.
The biggest thing I was looking forward to with the 3G is the new App Store. There are more than 500 downloadable applications for your iPhone or iPod touch, and in the first three days of its release, more than 10 million applications were downloaded. Many of these take advantage of the iPhone's large display, Multi-Touch user interface, fast hardware-accelerated 3D graphics, built-in accelerometer and location-based technology - very different than any other application I've seen on mobile devices. The categories include games, business, news, sports, health, reference and travel.
"iPhone represents a new software platform for developers, combining the most advanced mobile operating system, sophisticated developer tools and a breakthrough way for developers to wire-lessly sell and distribute their applications right onto every iPhone," says Philip Schiller, Apple's senior vice president of worldwide product marketing."The reaction from developers has been very, very positive, and we're opening the App Store with over 500 native iPhone applications available for immediate purchase and download."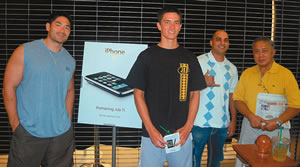 First four in line at Kahala Mall: (from left) Patrick Wong, George Jones, Joe Cohen, Alfredo Cabacungan. Photo by Alison Stewart
From the huge selection of apps, some of my favorites are:
* Remote (free): Control iTunes content on your computer or the Apple TV. It works with your Wi-Fi network so you can control playback from anywhere in the house. You can play, pause, skip, shuffle and see your songs, playlists and album art on the display of your iPhone or iPod touch.
* WeatherBug (free): Look at live, local weather conditions from more than 45,000 locations around the world.
* Twitterific (free): Here you can read and publish your "tweets" (posts).
* Pandora Radio (free): Stream personalized music - start with the name of your favorite artists or songs and Pandora will create a "station"that plays music to your preferences.
* Super Monkey Ball ($9.99): A cute, entertaining monkey game. You tilt and roll your guy through a variety of slopes and turns.
* Texas Hold'em ($4.99): Play against your friends over a Wi-Fi network and switch between immersive first-person or top-down gameplay by rotating your device.
* SCRABBLE ($9.99): This helps me practice my words so I can prepare my next win at real SCRABBLE with Dad Stewart. This iPhone SCRABBLE allows you to zoom in and out and drag and drop tiles right onto the screen. There's even a "cheater function" that helps you make the best word for the maximum points (you can only do this four times during the game).
Visit your nearest Apple Store or AT&T Store to purchase the latest iPhone 3G ($199/8GB, $299/16GB). As for the apps, take a look at the iTunes Store for a complete list of the available apps - iTunes 7.7 is available as a free download from www.apple.com.
Most Recent Comment(s):