Watching TV On Your Cell Phone

By
.(JavaScript must be enabled to view this email address)
October 11, 2006
|
Share

Del.icio.us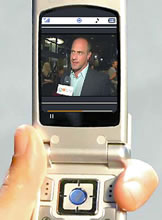 GoTV Networks
If you follow mobile phone trends you probably already know that certain service providers offer TV for your cell phone. It is nothing new since it's been around for a few years now, but when I talk about cell phone television to some people, I still hear many busy signals.
Watching TV on your cell phone is made possible by GoTV Networks. It's an onthe-go television network for your mobile phone to fit your lifestyle, especially if you're always busy like I am. GoTV provides news, sports, music, entertainment and other content customized specifically for you mobile users. You can watch some of your favorite TV shows, breaking news, sports news (including commentary and real-time scores), the latest music videos and more. It's updated 24-7, so you'll always get the latest. It is the first made-for-mobile television network and studio group, and produces the mobile television industry's widest range of original programming for an on-demand delivery direct your mobile phone with a family of subscription-based channels.
The convenient thing is if you only have a couple minutes between meetings or a few minutes to waste while you're waiting on other people, you can check the headline news or catch a short music video to sooth your mind and collect your thoughts. The GoTV Networks team, including Emmy Award-winning producers, create constantly updated programming optimized for both low-bandwidth and 3G handsets, and other mobile devices. GoTV's partners include traditional media companies such as ABC Entertainment, ABC news, Associated Press, The Weather Channel, Sony Music, Fox Sports and Variety.
Some of GoTV's programs include GoTV (the premium video package -breaking news w/text alerts), 1KTV (latest stats and scores from Fox Sports, and weather forecasts), Fantasy Sports Edge (in-depth reporting and commentary), The Hip Hop Official (source for everything hip-hop), GoTV Diva (everything for today's modern woman), Front Row by Sony BMG Music (latest music news - all genres), Boost TV (exclusive access to edgy entertainment for Boost Mobile customers), and the newly announced Laugh Riot (GOTV's mobile comedy warehouse).
Sprint is the first carrier to offer Laugh Riot. It features exclusive mobile content from the world famous Improv (stand-up comedy), highlights from Jimmy Kimmel Live and exclusive mobile rights to Ask A Ninja (the mobile version of the popular advice-giving Internet site www.askaninja.com). Laugh Riot will also include other wise-cracking satires such as Evan And Gareth (offering hysterical Axe Effect dating advice), the tongue-in-cheek news show Why Today Sucked and Carmen's World (a self-proclaimed smartest girl in her high school out to prove how stupid the rest of us are). Sprint customers can subscribe to Laugh Riot for an additional $5.99 a month.
Unfortunately, it's not available on all carriers, but if you have the right cell phone it could be an option. It should work on virtually all Java or BREW-enabled handsets with a color screen. The participating carriers include Boost, Cingular, Sprint Nextel and Sprint PCS. Check out http://www.gotvnetworks.com or ask your service provider for more information.
Most Recent Comment(s):