Webkinz For Cancer Patients

By
.(JavaScript must be enabled to view this email address)
May 23, 2007
|
Share

Del.icio.us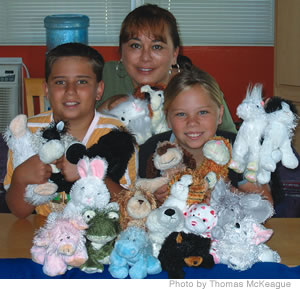 Evalani, Austin and Kalena Exner (and all their Webkinz
friends). Photo by Thomas McKeague
If you have young keiki, you've probably heard of Webkinz, the latest craze to take over the market. Although it launched about two years ago, Webkinz has recently become more and more popular, particularly among the 7- to 12-year-olds.
If you don't know what Webkinz are, they are virtual pets, but sold as stuffed animals with a special ID code that you use to log into the website and build a virtual reality.
Personally, I'm a sucker for stuffed animals, so I melted when I first saw these.
They're soooo cute! Despite that, the techie aspect of it, which it's really about, reminds me of the virtual reality video game The Sims. When first registering, you do the usual, create a user name/password, then you can choose the sex, name it, and it tells you about your new pet, including favorite food and hobbies.
The nice thing about Webkinz is that it's all web-based, as opposed to having to install a whole game on your computer. Along with the plush animal you buy, the game itself is soooo cute too! Right when you log in you'll see a Happy, Health and Hunger percentage indicator. You can up these numbers by having your pet participate in different activities, games or by feeding it. If you feed it certain foods that are favorites you receive more points. Likewise, with the activities, if you have your pet participate in well-liked activities and games, you gain more points. If you have multiple pets, you can conveniently register them all under your one login name.
Evalani Exner was smart and jumped on the Webkinz bandwagon early.
"I saw this as an up-and-coming trend long before these were popular, and the whole reason I started doing this was to help my friend with her cancer cause," she says.
Exner sells Webkinz at various craft fairs around the island, and is passionate about these for her own keiki.
"Webkinz has a lot of great aspects for the kids. It teaches them responsibility with saving and spending money, and the quizzes you can take in there are good because it makes them think," she adds. Exner also likes the fact that the games that are offered keep not only the kids occupied, but her as well.
As with Exner, I can see this game occupying hours of my time. Just fiddling with it for this story I spent a good six hours (if not more) taking my new cow through different rooms, feeding him and playing different games.
Additionally, you have your own room, which you need to furnish. When you play the
games within, you earn money so you can buy things such as furniture or clothes. If you have other friends in the Webkinz World, you can send them gifts or interact with them in the Webkinz Clubhouse. But not to worry, those areas are tightly controlled and offer pre-built phrases to prevent people from seeking out personal information. It does include rooms for you to attend parties, play games, sports, exercise, garden and more.
Overall, Webkinz combines the timeless fun of a plush toy with web interaction to give your keiki a virtual world to play in. Your kids as well as you will have loads of entertainment with this. It does become addicting. Also know that as a Canada-based company, in 2006, the Webkinz pets were awarded an iParenting Media Award and a Canadian Toy Testing Council Children's Choice Award.
It seems local stores are sold out of Webkinz, but if you're looking for it and want to help cancer patients, contact Evalani Exner at 499-2646 or .(JavaScript must be enabled to view this email address). She sells her Webkinz for $15 each. All profits from her Webkinz sales are donated to her friend Kara England/Time To Heal Massage (277-4536). England offers free massages to cancer patients, so the money donated helps make the service possible.
Otherwise, check out www.webkinz.com for more information on this wonderful family-oriented game.
Most Recent Comment(s):