What's New With The Kindle 2

By
.(JavaScript must be enabled to view this email address)
February 25, 2009
|
Share

Del.icio.us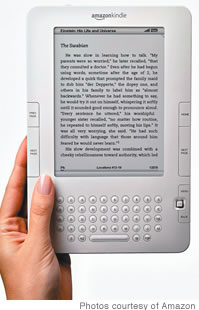 Earlier this month, Amazon announced its second-generation e-book reader, the Kindle 2. Hardly anyone has been lucky enough to play with one yet, but from my first glance at the pictures, the Kindle 2 looks much slimmer and less clunky than its predecessor, with a bigger screen. The shape reminds me of a first-generation iPod (especially the way they framed it in the photo with the hand on the left side).
"Kindle 2 is everything customers tell us they love about the original Kindle, only thinner, faster, crisper, with longer battery life and capable of holding hundreds more books. If you want, Kindle 2 will even read to you - something new we added that a book could never do," says Jeff Bezos, Amazon.com founder and CEO. "While we're excited about Kindle 2, we know that great hardware is useless without vast selection. That's why the Kindle Store offers customers more than 230,000 books."
Kindle 2's screen is a high-resolution, 6-inch paper display that looks and feels similar to real paper. This was designed to reduce eyestrain caused by reading on a backlit display. The screen shows up to 16 shades of gray, and Amazon claims it can turn your pages approximately 20 percent faster than the original Kindle. I'm especially looking forward to the new Read-To-Me Feature that offers a Text-to-Speech option that reads the words to you (similar to an audio book). The pages turn automatically when the content is read aloud, and you can customize it with a male or female voice.

With its expanded 2GB of memory, the Kindle 2 can hold more than 1,500 books at a time, compared to 200 with the original Kindle. It's perfect for a long trip since you can read up for to two weeks with no recharge (25 percent more battery life). In addition, it uses the same wireless delivery as the first Kindle - Amazon Whispernet. This allows you to wirelessly shop the Kindle Store, download or receive new content in less than 60 seconds and read from your library without a Wi-Fi hotspot, computer or syncing. It uses Sprint's 3G data network and works in all 50 states (no fee for you).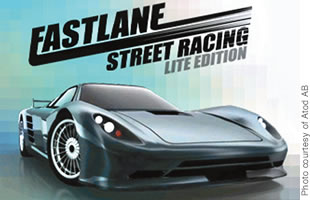 The Kindle Store has really expanded. There are even 103 of the 110 New York Times Best Sellers in the Kindle Store. Kindle 2 pre-orders started earlier this month, and availability began earlier this week. Find it at http://amazon.com/kindle2 for $359 (unfortunately, no price drop from the first, and it only comes in white).
Click Chick's iPhone App of the Week: Fastlane Street Racing
If you're a racing fan and enjoy Ridge Racer, Need for Speed or any of the Gran Turismos, you'll have a blast with Fastlane Street Racing. It's high-speed arcade racing on your iPhone/iPod touch. Weave through traffic in busy city streets or do some high-speed driving on the track.
This app comes in a free Lite Edition and a full version ($4.99). The full deal comes with five game modes, 10 original cars, eight city routes, two high-speed circuits, six challenge tracks and the ability to save replays. You'll have fun with either version.
As with any app, find it on the iTunes Store or download it directly from your iPhone/iPod touch.
Most Recent Comment(s):