What's Surfacing At Microsoft

By
.(JavaScript must be enabled to view this email address)
June 20, 2007
|
Share

Del.icio.us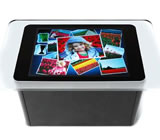 The world has had touch screen computers for a long time, but I've never seen one that recognizes multiple touches at one time, or one in the shape of a table. Microsoft's latest creation, the Surface, is essentially a coffee table that may change the world. It's the first commercially available surface computer that turns an ordinary tabletop into a vibrant, interactive surface.
Nothing like I've ever seen before, Surface is a 30-inch-wide "table" which is easy for you or small groups to interact with. It simultaneously recognizes almost all of your physical touches, gestures or actual objects that have attached identification tags (similar to barcodes). For example, if you place your digital camera on the Surface, you'll see the photos you took spill out all over the tabletop like magic. You can then "grab" these pictures with your fingertips, stretch them out, or move them around the Surface. If that's not enough, you can place your cell phone on the Surface and drag those photos to it. Voila, those photos are uploaded to your phone.
Or, if you're at a restaurant, say the Surface is your table - you can order food off the menu by just clicking and dragging the desired food and beverages from the screen. Then when you're finished, just placing your credit card on the Surface will pay for your meal with RFID (and even have the option to split it among multiple credit cards when dining with others).
All this is done with your hands, without the use of a mouse or keyboard.
This whole concept is called surface computing (hence the name Microsoft gave its new gadget).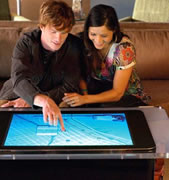 It's a new way of working with computers that moves beyond the traditional keyboard and mouse experience. It's a natural user interface that allows you to interact with digital content the same way you've been interacting with everyday items such as photos, paintbrushes and music your entire life - with your hands, with gestures and by putting real-world objects on the surface.
Surface computing opens up a whole new category of products for you to interact with.
The guts of Microsoft's Surface is almost the same as what you would find in a regular PC - a Core 2 Duo processor, 2 GB of RAM and a 256 MB graphics card. It has Wi-Fi and Bluetooth capability, and uses Windows Vista. If you were to pick it apart, the Surface has a diffuser that turns its acrylic table-top into a huge touchable screen that's capable of receiving and processing your multiple touches. Its "vision" operates in the near-infrared spectrum, using an LED light source that is aimed at the screen you see. The light is reflected back and picked up by many infrared cameras, then gives you the picture you see with its digital light processing (DLP) engine found in many rear-projection TVs.
In the near future, you'll see Microsoft's Surfaces appearing at restaurants, hotels, retail establishments and public entertainment venues. Confirmed partners so far include Starwood Hotels & Resorts (Sheraton) and T-Mobile stores. And, if you take a trip to Vegas, you'll see these at Harrah's Entertainment's properties (including Caesars Palace and the Rio All-Suite Hotel & Casino). At the moment, the units sell for $10,000 each (not available to us consumers), but will definitely come down in price the day you and I will be able to buy these. Check out http://www.microsoft.com/surface for more information, and make sure to watch the video demos.
Most Recent Comment(s):