Who Knew? Cool Barcode Scanners

By
.(JavaScript must be enabled to view this email address)
March 21, 2007
|
Share

Del.icio.us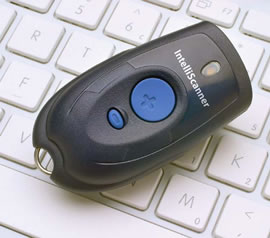 IntelliScanner mini
Call me strange, but I always thought it would be cool to have my own barcode scanner. Those who know me very well know why - I'm always organizing things and keeping track of stuff, even if I don't realize I'm doing it.
A barcode scanner is a perfect tool to enhance this tendency of mine.
I never really seriously thought about buying one until I saw the IntelliScanner mini at MacWorld. With this little thing I can now keep an accurate account of my video game/DVD collection and contents of my refrigerator/pantry without a second thought. The best thing about it is that it's so small that I can carry it around with me on my keychain and put it right in my purse.
This IntelliScanner mini may be tiny, but it's everything you need to organize, track and share information on just about anything - your DVDs, video games, books, comics, groceries, wine, or anything that has a barcode. When I first placed my hands on it, I scanned everything in sight (that had a barcode). Then my husband got a hold of it, and it was all over - he was completely addicted, and our entire refrigerator was inventoried in less than five minutes. Then he took it to work and scanned the contents of his office. He even tried to scan our parrot, but that obviously didn't work.
Anyway, once you're done with scanning, you use IntelliScanner's Express Software Package to keep track of your stuff. It includes Media Collector/Collection, Wine Collector, Kitchen Companion, Home Assets, Auction Automator and Comic Collector.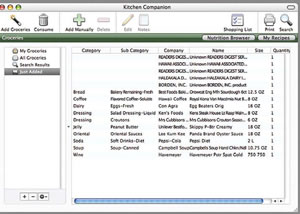 The Media Collector/Collection 2.0 makes organizing your media fast and easy with autofill. One click provides you with detailed product information and artwork (box art) that allows you browse, organize and share your collections. Even if you have international DVDs/CDs or super-old books, Collection 2.0 will support it. There's an automatic link with the Library of
Congress for those ancient books of yours. If you want to lend something out without a second thought, the program keeps track of your borrowers and your items' status. You can assign due dates for each item to diligently keep track of where your goods are, and its SQL database engine makes your searches/queries simple to obtain all the information you're looking for.
For you wine fanatics, the Wine Collector helps you automatically identify the name, variety, winery, country, type, region and more with just one scan. The Kitchen Companion might be the most practical. It has access to a web-enabled database of more than 300,000 grocery items to give you advanced quantity tracking, consumption history, physical location or nutrition information. With it you can make your shopping lists - scan barcodes as you throw things away so you know what needs to be purchased, or manage your nutrition or catalog recipes. You can also print out categorized shopping lists and send it to your iPod, Palm or cell phone.
Home Assets helps you track everything in your home, especially helpful for tax use. You can inventory your entire house, electronics, television, etc. You can even add pictures of your items to the software so you know exactly what you're viewing in the database. If you're looking to sell any of your items, the Auction Automator allows you to scan it in (i.e. DVD, CD, book, etc.) and post it online from the program.
I'm not a huge comic book person, but I know many of you out there are avid collectors. The Comic Collector (available in April) has automatic issue identification, accessing a web-enabled database of more than 250,000 issues that provides you with the title, date, detailed credits (writer, penciler, inker, editor and cover credits), character features and cover picture.
Other useful IntelliScanner software you can purchase includes Auction Automator, Inventory (for businesses, $149), xTagger (create your own barcode tag images, $79) and Daneizo Lending Management (comprehensive library and lending management software, $1599).
The portable IntelliScanner mini bundle is $299. A little pricey, but if you're going to use this all the time like I do, it's worth it. For a slightly cheaper option, you can buy the corded IntelliScanner Express bundle for $199. Check out www.intelliscanner.com to purchase these and for more information.
Note the IntelliScanner has a one-year limited warranty and includes a USB cable, IntelliScanner Asset Tags (starter 10-pack) and an IntelliScanner On-The-Go Card. Its software works with both Mac (OS X) and Windows-based PCs.
Most Recent Comment(s):