Wii Fit: a video game that promotes fitness

By
.(JavaScript must be enabled to view this email address)
June 20, 2008
|
Share

Del.icio.us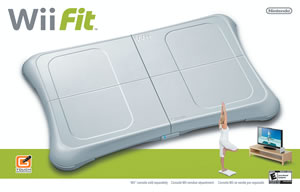 Nintendo released the Wii Fit about a month ago,prompting mad rushes to stores with everyone and their brother trying to buy it. I should have been smart and pre-ordered one, but thankfully last Friday I was out and about shopping, randomly saw one last Wii Fit sitting there, and was at the right place at the right time - I grabbed it off the crate! The box was dented, but I really didn't care since the important part was inside and undamaged.
For you lucky individuals who were able to even buy a Nintendo Wii, I think you'll enjoy this Wii Fit game. Using the Wii Balance Board as the core,it keeps you active and on your feet instead of just sitting there on the couch holding a game controller. It starts you off by measuring your BMI (Body Mass Index), testing your balance and giving you a Fitness Age.
"Wii Fit will get you moving whether you've been playing video games for years or this is your first time," said Cammie Dunaway, Nintendo of America's executive vice president of Sales & Marketing. "Wii Fit is easy for anyone to try and is yet another example of how Nintendo continues to expand the world of video games to new audiences."

You use the board to control the on-screen actions with your movements as you work your way through more than 40 activities and exercises. There are four main categories: strength training (muscle-toning exercises such as push-ups), aerobics (i.e.Hula Hoop,basic step), yoga for flexibility) and balance games (ski or tightrope games). I don't see this as a complete fitness solution, but it could be a great start for beginners or those too self-conscious to participate in an aerobics or yoga class.
Several people in your household can use the Wii Fit and track each person's progress separately.You do this with your Mii caricature, and he/she will reflect your fitness level and change as you become more proficient at the activities.
The strength training taught me some new core exercises that I can do on a regular mat, and not necessarily on the Wii Fit itself.
With the pad, you always have to be in contact with it.
That's sometimes difficult if you're used to doing the exercises a certain way. As you progress through the game, it unlocks more and more exercises for you to try. The aerobic didn't really do much for me with its hula hoop, basic step, rhythm boxing, etc.
Although fun, I would not consider Wii Fit to be a complete exercise substitute. It did help me be more aware of my balance, which is important for good posture and decreased back problems. The balance games can be fun for keiki, but a major drawback is it can only handle up to 330 pounds, which locks out the heftier individuals from playing. It also focuses mostly on improving muscle tone and not weight loss with cardio exercises.
Good luck finding Wii Fit (rated E for Everyone). Your best bet is online since none of the stores on-island has any in stock, or you have to be at the right place at the right time as I was. The suggested retail price is $89.99, but at this point you'll see them online for an inflated $200-ish (i.e. at www.amazon.com from various vendors).
A little side note: The Wii is the first video game system that was included in the President's Challenge, a program of the President's Council on Physical Fitness and Sports that encourages all Americans to make physical activity a part of their daily lives. The Wii Fit builds on that by encouraging people to keep their bodies moving.
Most Recent Comment(s):