Windows Phone 7 vs. The iPhone

By
.(JavaScript must be enabled to view this email address)
November 10, 2010
|
Share

Del.icio.us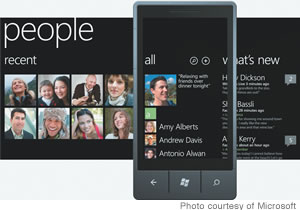 We blinked again and - voila! - here's another super phone trying to copy the iPhone. Earlier this year, Microsoft announced its supposed iPhone killer, the Windows Phone 7. After months of waiting, and under much pressure, Microsoft finally released its phone last week.
According to Microsoft, its goal for the Windows Phone 7 is to "deliver a phone that truly integrates the things people really want to do, puts those things right in front of them, and either lets them get finished quickly or immerses them in the experience they were seeking."
The phone is truly nice, and I do enjoy the easy-to-read display. It has an interface that features Hubs - People, Music and Video, Photos, and Games and Office. Because of this, you won't see rows and rows of apps you typically see on an iPhone. Each phone has minimum hardware requirements that revolve around Qualcomm processors, nice big screens and 8GB of flash memory. They also have GPS, accelerometer, compass and FM radio. Phone manufacturers were given the option to add on their own features, such as AT&T's U-verse Mobile TV subscription service.
To clear any confusion, I just have to mention the name "Windows Phone 7" is a bit misleading. It does-n't run Windows software or require a Windows PC.
I think the name came from the latest Microsoft phone software release, Windows Mobile 6.5. Despite that, it does have built-in "Windowsy" features such as the mobile versions of Microsoft Office, Internet Explorer, Bing, Zune and Xbox Live.
Overall, it's a pretty phone, but still not enough to make me switch from my iPhone. With only about 1,000 apps available, compared to 300,000 for the iPhone or 100,000 for the Android, sorry, that's not enough to make me jump.
For me, it's all about the cool apps, and not necessarily about the phone.
In addition, some initial drawbacks I noticed: no copy and paste, no folders for organizing your apps, no way to add new ringtones, no video chat, no front-facing camera, no sending videos as MMS messages, and my biggest pet peeve: no multitasking. I still have more, but those are the biggest ones.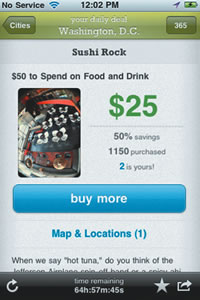 If you're still interested, various Windows Phone 7 models are available starting at $200 (with a two-year contract) from AT&T and T-Mobile. Visit microsoft.com/windows-phone/enus/buy/7/phones.aspx for a full list of phones or more information.

Click Chick's Mobile App of the Week: LivingSocial
LivingSocial has been around for a while, but I only started using it a couple of months ago, and I've already saved money on a few restaurant deals. This app is a great way to find deals on not only restaurants, but also on a variety of items such as spa treatments, surf lessons and other services for 50 percent to 70 percent off retail value.
You create your free account from the LivingSocial website or mobile app, or use your Facebook account to login. The deals are e-mailed to you daily, or pushed to your phone daily with the app. Once you buy a deal, you can share it with your friends, and if three of your friends buy that deal, you receive yours for free!
Additionally, you can redeem your deal right from your phone rather than print it out and waste a piece of paper. LivingSocial is free and available on the iTunes App Store, Android Market or Blackberry App World.
Most Recent Comment(s):