World's First LCD Greeting Card

By
.(JavaScript must be enabled to view this email address)
February 17, 2010
|
Share

Del.icio.us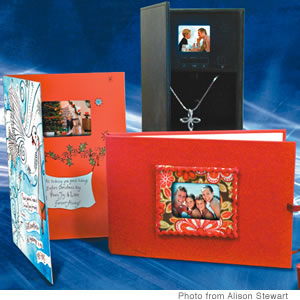 In partnership with American Greetings and Target, Euri Inc. has developed the world's first digital photo greeting card. Combining sight, sound and a nice LCD screen, this is the perfect card to send to your loved ones across the ocean (an especially great gift for the deployed military servicemember in your life).
This card is capable of storing and displaying up to 50 digital images on a 2.4-inch LCD screen, and you can record a personalized message up to five minutes long (audio only) to go along with it. The card's packaging opens into a nice coordinated gift box and includes an appropriate-sized mailing envelope so you don't have to purchase anything additional to send your special card. Its postage costs approximately $2.30.
"With the explosion of social media sites like Facebook, Flickr and YouTube, we've seen a transformation in ways consumers communicate and share," said Josiahs Livingston, director of marketing and product development at Euri. "The digital photo card goes one step beyond - creating both a highly personalized and memorable gift."
The card can double as a digital photo album. You load your images onto the card via USB, and it's activated each time it opens. It will last up to three hours on a charge (via USB).
"Once consumers add their favorite photos and message, the card transforms into an emotional and personal experience that can be enjoyed for years to come with mom, dad, an older brother, younger sister or anyone with whom you've shared cherished memories," says Carol Miller, executive director on new product concepts at American Greetings.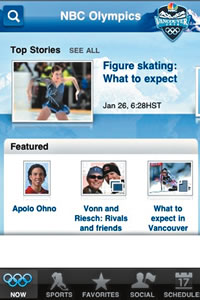 This digital card is a great idea and announced to only be available in Target stores for $19.99. I haven't found these in a Target store yet, so we'll see.
Another interesting idea from the card's creator, Euri, is the Euricase. Made for a marriage proposal or an elaborate anniversary/birthday gift, this is a ring box with a full-color LCD display. There are different versions available: The Euricase Classic-L (voice only, $40), Euricase Classic-T (video, $99) and the Euricase Classic-T (metallic case with video, $249).
Visit euricase.com for more information both the digital card and ring box.
Click Chick's iPhone App of the Week: NBC Olympics on AT&T
It's that time again - the Olympics! Last week we saw the Winter Olympics begin in Vancouver, and you can follow the action on your iPhone. With NBC's Olympics on AT&T app you can see live real-time updates on events, see video clips, highlights, results, schedules and medal counts. You can even follow your favorite athletes on Twitter from within the app.
You also can see your athletes' bios, sports information and view the TV coverage schedule (and set program reminders). Participate in discussions and comment on public forums or create private forums for you and your friends. This app is easy to navigate through and a great tool if you're an Olympics fan. Download it for free at the iTunes App Store.
Most Recent Comment(s):