Worry-free Online DVD Rentals

By
.(JavaScript must be enabled to view this email address)
April 02, 2005
|
Share

Del.icio.us
I enjoy watching movies, and especially the convenience of watching them in the comfort of my own living room, curled up on the couch with a bag of popcorn. I've always been a big fan of renting movies, and now online DVD rental services have made my habit a bit more affordable.
Just recently, Blockbuster announced its online rental service to compete with the online rental market. I was so excited when this happened because in the past Blockbuster probably made a small fortune off me with what I was paying for individual store rentals and occasional late fees. Now with online rentals, I pay a flat fee with no worries about any late charges.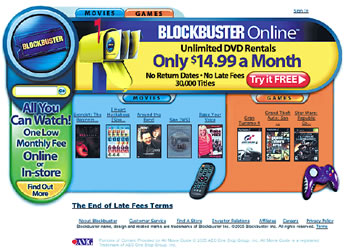 Blockbuster Online charges $9.99 for the
first month and $14.99 per month thereafter
Blockbuster Online (www.blockbuster.com), offers the first month for $9.99, and $14.99 per month thereafter. You can have up to three movies out at a time with over 30,000 titles to choose from. The shipping is free both ways, and you can cancel your subscription at any time with no commitments. An added bonus every month includes two coupons for an instore movie or game. This is definitely the best online DVD rental offer on the market. The only drawback that I experienced was that in two separate instances the website stated "down for scheduled maintenance" and I could not log on. Also, if you're looking for a free trial, unfortunately Blockbuster does not offer one.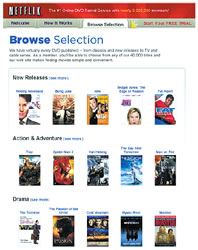 Netflix offers more titles than
Blockbuster, but its price is higher
Two other good online services include Netflix (Netflix.com
) and Wal-Mart (Walmart.com
). Netflix, being one of the first, offers more titles than Blockbuster with more than 40,000 to choose from. Its price is a little higher at $17.99 a month for three movies out. You can also choose two movies out for $11.99, five for $29.99 or eight for $47.99. It also comes with a free two-week trial, free twoway shipping and you can cancel anytime.
Wal-Mart offers a free 30- day trial, and about 13,000 titles to choose from. The prices are $12.97 for two movies out, $17.36 for three movies, and $21.94 for four movies. It also offers free two-way shipping and the option to cancel at any time. The delivery time is a little slower than Blockbuster or Netflix, but keep in mind you do get that long free trial period. Headphones. I love traveling, but flying on a long airplane flight can be a grind.
The crying children, people talking loud or yelling at each other, or the jet engine noise can make it difficult to relax or fall asleep. On a recent overseas flight, I was fortunate enough to try a pair of noise reduction headphones. The technology is truly remarkable. Small microphones that are built into the headphones listen to the ambient noise around you and takes it away almost magically. While listening to the music on my iPod with these special headphones, it amazingly shut the rest of the world out, even to the point where I could not hear the flight attendant talking to me.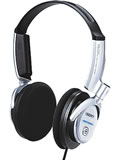 Sony claims its MDR-NC6
headphones reduce ambient
noise by 70 percent (10 decibels)
There are three noise cancellation headphones that I would recommend. For starters, there's the Sony MDR-NC6. According to Sony, it reduces ambient noise by 70 percent (10 decibels). Weighing 5.29 ounces, and folding for easy storage makes it good for travel or a daily commute. The MDR-NC6 also functions as regular headphones when the noise canceling circuit is not activated. It also comes with a dual plug adapter and retails for about $59.95 on www.sony.com.
The Panasonic RP-HC100 features an ergonomically designed headband and large foam ear pads for a comfy fit. It weighs 5.1 ounces and easily folds to fit in its carry pouch. Its large driver units and neodymium rare-earth magnet deliver a rich and powerful sound. Retail price is $79.95 at www.panasonic.com.

You can go cordless with the
Bose Quiet Comfort 2 Noise
Cancelling Headphones
The Bose QuietComfort 2 Noise Cancelling(r) Headphones use Bose's proprietary TriPort(r) technology, which allows the driver to create deep lows. That means you can hear balanced low notes while listening to your music. A little heavier than the Sony or Panasonic, it weighs in at 6.9 ounces and folds flat to fit in its zippered carrying case. Also, the cable can be removed so you can go "cordless" if you just want to reduce the noise. The price is $299 at www.bose.com.
Although all these headphones are great for trips on an airplane or noise in general, I highly recommend splurging for the Bose if you can afford it. The comfortable ear pads make it all worth it, and you'll be in your own world.
.(JavaScript must be enabled to view this email address)
Most Recent Comment(s):
Commenting is not available in this weblog entry.