WowWee! It's The Rovio Webcam

By
.(JavaScript must be enabled to view this email address)
November 12, 2008
|
Share

Del.icio.us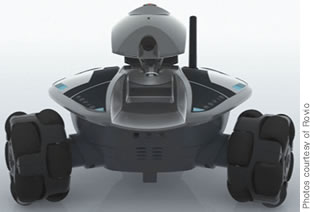 When I'm away from home, whether at work or traveling on the other side of the world, I often wonder what my parrot is up to. Yes, I know he's "just a bird," but since I don't have a child yet, he's the closest thing to one.
WowWee's latest creation, Rovio mobile webcam, is a Wi-Fi-enabled home and office explorer that can be controlled remotely from anywhere in the world. This little robot allows me to see what "the green guy" is up to anytime, and sort of be in two places at once.
Rovio can be controlled remotely using just about any web-enabled device, including a PC, Mac, cell phone/smart phone (i.e. iPhone), PDA or even your video game console - basically anything with an Internet browser. Through the built-in camera and microphone that streams audio/video, you can view and interact with the Rovio mobile webcam's environment to survey any dwelling or workplace remotely.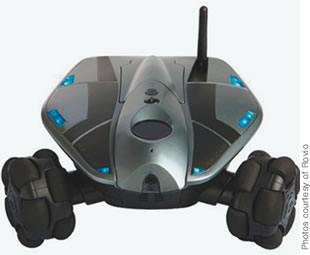 It features the TrueTrack Navigation System, enabling it to locate objects in its environment and navigate from place to place with pinpoint accuracy.
You can store way-points with the Internet browser interface and, with a click, your Rovio can navigate itself to your chosen waypoint. To navigate into multiple rooms, you'll need the TrueTrack Room Beacons (sold separately - no price available yet).
The mobile webcam has omni-directional, three-wheeled motion for easy and precise navigation. The camera has a more than adequate resolution at 640 x 480, with a wide range of vision that streams video, and can take, store and send photo snapshots of what it sees. The built-in LED headlight helps you guide the device around in low light. The device itself is approximately 11 inches long by 10 inches wide, and about 10 inches tall when its neck is raised.
With only an Internet connection, you can see and hear exactly what your Rovio sees and hears in real time from your office, vacation spot or any location in the world.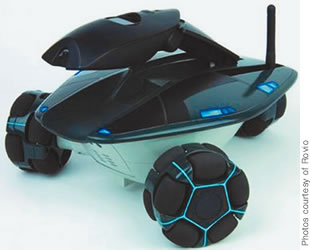 Additionally, the Rovio's microphone and speaker system make it possible for you to read a bedtime story to your keiki if you're away from home. Requiring no subscription fees or professional installation, the Rovio connects to your computer via USB and comes with user-friendly software that automatically detects your computer's settings and guides you through the easy setup process. It works with both Windows and OS X, and you also can set it up with Skype or Windows Live Messenger (Live) through a video plug-in.
Note that the Rovio runs off your Wi-Fi network and doesn't require an additional network, but you do need to setup a login/password for secure remote access.
Unfortunately Rovio cannot go up and down stairs, and you can't use it outside. It's fun to drive, but is not considered a toy. It's really a sophisticated mobile webcam that makes telepresence a reality for you to monitor your house, pets, children or office. Your Rovio's range will be dependent upon the range of your Wi-Fi network.
The Rovio retails for $299 and comes with a charging dock, a built-in TrueTrack Beacon, rechargeable battery pack, setup-CD, Quick-Start Guide, USB Cable and 8V AC adapter. Find it at www.amazon.com, Radio Shack and Wal-Mart. See www.meetrovio.com for more information and video demos.
Most Recent Comment(s):