Writing a novel made easier with Storyist

By
.(JavaScript must be enabled to view this email address)
May 30, 2008
|
Share

Del.icio.us

While I was at Macworld earlier this year, the Storyist Software booth immediately caught my attention, since I'm working on a book of my own. Storyist is a creative writing application for Mac OS X 10.4 Tiger (or later) that is designed specifically for novelists and screenwriters. This was perfect timing for me since I recently started back on my book after a one-year hiatus.
Previous to finding Storyist I was writing everything in Microsoft Word. I realize there are other book-composing software solutions out there, but this seems to be very comprehensive for my needs. For all you aspiring book writers out there, as myself, Storyist is for you . . .
It is considered the flagship product of Storyist Software and is definitely a powerful story development tool for novelists and screenwriters. It includes a word processor with a page layout view and support for headers, footers and style sheets. It allows you to view a storyboard with customizable story sheets and a project manager with fast, project-wide search capabilities.
"Writing a novel or feature-length screenplay is a significant and rewarding undertaking," said Steve Shepard, CEO of Storyist Software. "Our goal is to make the process as simple as possible - but no simpler."
When I started using Storyist a few weeks ago, I flowed in numerous pages from my Microsoft Word document. I was impressed how easily I was able to lay everything out and break them out into the proper chapters very quickly, not to mention in the style a book publisher would look for in a manuscript. My process took less than two minutes.
If you're comfortable using a web browser, you and the Storyist interface will cope together as a happy family. You can navigate easily between your manuscript pages, story sheets and notebook entries by simply clicking the links in your text or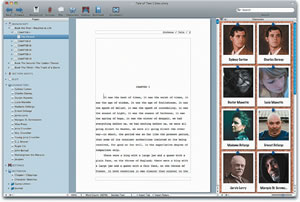 by using the Back and Forward buttons in the tool-bar. In addition, the Storyist word processor - with its page layout view and support for headers, footers and style sheets - is making this extremely easy for me to prepare my submission-ready manuscript. That honking big Microsoft Word document that I was working on before was a bit much to deal with, so putting it in Storyist made this much easier to cope with.
The unique storyboarding tools allow you to sketch out a story using photographs and index cards and then refine it with your customizable plot, character and setting sheets. This allows you to put a face to a name with pictures. You can import images, including from Flickr or Google Images. You can view, edit and arrange your scenes and plot points with your virtual index cards on a corkboard.
For the writers who prefer a more traditional approach, Storyist provides outlining tools to create and arrange story elements in outline form. This is a flexible tool that lets you display and edit your section summaries as well as any custom field. Customizable story sheets are also there to record information about various aspects of your story, such as the age of your character or a setting description.
Bottom line is that Storyist is definitely making my life easier writing my book. I highly recommend this to my fellow aspiring authors out there. You can download this Storyist Software for $59 at www.storyist.com. If you must have an install CD too, you can purchase the download and CD together for $69. A 15-day free trial is available if you're looking to just try it out.
Most Recent Comment(s):