The Lightning Rod That Is Tim Tebow

By
.(JavaScript must be enabled to view this email address)
Wednesday - January 25, 2012
|
Share

Del.icio.us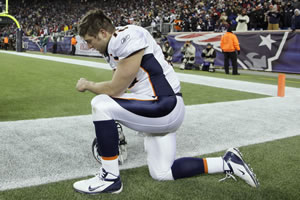 Tim Tebow prays after a playoff loss Jan. 15 at New England. AP photo
Twenty-three years ago, an American missionary couple in the Philippines (we'll call them Pam and Bob) were busy doing what missionaries do: bringing souls to God. With four children already, their prayers for a fifth child were answered when Pam became pregnant. However, not long thereafter, she came down with amoebic dysentery, a disease of her internal organs usually caused by contaminated water or food. She was deathly ill, nearly lost her baby four times and, ultimately, went into a coma.
Doctors advised her to strongly consider an abortion since the antibiotics they had to use to cure her were so strong they could potentially cause irreversible harm to the baby. Relying on her deep faith, Pam refused.
Spending the last two months of her pregnancy in bed, she pledged to God that if she had a son, she would name him Timothy, and raise him to be a preacher like his daddy.
On Aug. 14, 1987, the couple was blessed with a healthy baby boy. Yes, he answered the many prayers of Pam and Bob ... Tebow!
If you are a football fan, you already know that at 6-foot-3inches, 245 pounds, Tim Tebow was an "all everything" quarterback at University of Florida.
He was the first NCAA player in history to score 20 rushing and passing touchdowns in a single season, and the first sophomore to win the coveted Heisman trophy, the annual award to the "most outstanding collegiate football player in the United States." His list of honors, achievements and records require six consecutive "scroll downs" on the computer.
If you are not a football fan, by now you have probably at least heard something of his unique appeal off the field as well. I say "appeal," but it could just as well be "controversy." A January ESPN poll found him to be the most popular athlete in the country. But he also has been called the most polarizing athlete in decades, the "Sarah Palin of football."
Many saw him off the field for the first time when he and his mom, representing "Focus on the Family," collaborated on a pro-life advertising spot during last year's Super Bowl. The spot generated countless protests from women's groups and pro-choice advocates who apparently felt that holding up young Tebow as a shining example of a pro-life decision especially considering Pam Tebow's circumstances at the time was hitting below the belt; actually, more like embarrassingly disarming.
After scoring a touchdown, Tebow kneels briefly at the sideline for a short prayer thanking God, not for giving him the touchdown, but for blessing him with the talent and determination to do what he had to do to score it, and most likely for his loyal teammates who all did their part in that touchdown.
He commences every post-game press conference win or lose with, "First of all I'd like to thank my Lord and Savior Jesus Christ for ..."
He talks openly of his virginity and his intent to keep it for the girl he marries. He is generous with his time in visiting with children in schools and hospitals, seldom turning down such invitations.
Like few others in the public eye, Tim Tebow simply wears his spiritual faith and his "goodness" on his sleeve, and has always not just recently used his celebrity to share it and that seems to drive crazy the nonbelievers, cynics and anyone else accustomed to believing that no one could ever really be that good, least of all themselves.
After speaking at a banquet celebrating the 100th anniversary of the Boy Scouts, Tebow was asked what he'd like to be doing if not playing football.
"Trying to make a difference," he said. "That's what my life is all about. I always want to be known as someone who was better off the field than on the field. People are going to forget the touchdowns, and the trophies are going to rust. But what you do for people and the impact you have on people is going to last forever."
America can use all the Tim Tebows we can find! A missionary, after all, just like his daddy.
Most Recent Comment(s):