A Bad Time To Be A Russian Coach

By
.(JavaScript must be enabled to view this email address)
Friday - March 10, 2010
|
Share

Del.icio.us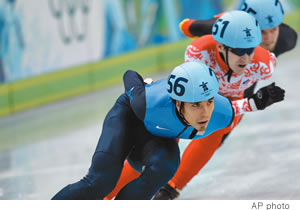 We'll get interested in speed skaters such as Apolo Anton Ohno again in four years
Now that the Vancouver Winter Olympics are in the books, a couple of things have become apparent. Hockey is never as popular as it is in the Olympics. The U.S. vs. Canada gold medal game was the most-watched television event in Canadian history. Roughly 80 percent of Canadians watched at least a part of the game.
The least secure job in Russia may be as a high-level member of the sports federation. President Medvedev is calling on those responsible for Russia's miserable showing in Vancouver to resign or be helped along. Usually a winter sports juggernaut, Russia accounted for 15 total medals - only three golds - about half of what was anticipated. An unsuccessful coach is no longer likely to end up in Siberia, but will join the ranks of the unemployed. With Russia hosting in 2014, the pressure will ratchet up.
And if you'd like to participate in the Olympic games, consider curling. The U.S. is pitiful on both the men's and women's side. But get ready to part with some cash if you think the sport is for you. A set of curling stones goes for around $7,000.
Like most Americans I won't watch another bit of bobsledding, luge, short track speed skating, figure skating or cross country skiing until four years from now - when I'll thoroughly enjoy it for two weeks.
This spring marks the 10th anniversary of Hawaii Speed and Quickness. The inspiration for HSQ came when a UH football player asked Rich Miano about speed and quickness training on the Mainland. It was pricey, not to mention the additional cost of getting there.
"I figured we should do it here," says Miano. "We had some good coaches, facilities and obtainable equipment."
So together with Mel DeLaura and Marshall Muramoto, HSQ was launched with two clinics at Saint Louis School. Now there are three divisions: weekend speed and quickness clinics, the after-school Refuse to Use Refuse to Lose clinics and sports camps. The latter two are funded by grants and are totally free. The weekend clinics cost $10, and a large number of the participants are given scholarships.
"We want it to be available to everyone, so we scholarship the kids whose parents are struggling," says Miano.
A large number of prominent UH athletes have given back by coaching, including Colt Brennan, Davone Bess, Chad Owens, Jake Ingram and Natasha Kai, to name a few. And many of the campers are receiving college scholarships as well.
"This year we had VJ Fehoko and Beau Yap get full rides," says Miano. "We're seeing more and more of the kids who grew up with us getting attention in football, soccer and other sports."
So what's ahead? "The next step is to make this available to every intermediate school in the state," says Miano. "We're already on Oahu, Maui and Kauai, and we're growing all the time."
For information, go to Hawaiispeedandquickness.com.
HPU will soon lose two of its most prominent employees to retirement. President Chatt Wright introduced athletics to HPU to help put the school on the map, and basketball coach Tony Sellitto took it to the top by winning a national championship. The school will be hard-pressed to replace them with men of equal talent and vision.
Most Recent Comment(s):