A big-time Sunday for Parker, Colt and Shane

By
.(JavaScript must be enabled to view this email address)
Friday - August 08, 2008
|
Share

Del.icio.us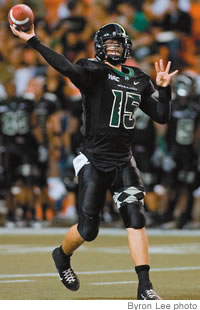 Colt Brennan: two touchdowns in Canton
Last Sunday represented a banner day for athletes with Hawaii ties on the national stage. Parker McLachlin, former Punahou and UCLA standout, has played on mini-tours named after websites, restaurants, insurance companies and pro football owners while working his way to the PGA tour. He has improved every year, coming closer to the dream of winning on the PGA tour. And after a last-minute decision to play the Legends Reno-Tahoe Open, he had the week by which dreams are made.
A blistering course record-tying 62 on Friday set the tone for the weekend. On Saturday, McLachlin continued to lead the field in greens in regulation, maintaining his position atop the leaderboard and giving him the tournament record for 54 holes. Then on Sunday, his accuracy off the tee abandoned him, leaving the 29-year-old to scramble with what has always been his strength, the short game.
He fought off every charge, making huge par putts at 12 and 13 to maintain his lead, and then watched chief opponent Brian Davis falter on 14, allowing McLachlin to cruise to a seven-shot victory, the second-largest victory margin all year.
"It means a spot in the Mercedes, which I've dreamed about since I was about 12," says McLachlin, "and a two-year exemption through 2010, which is also huge. I still can't really believe it."
It also means an invite to the PGA Championship this week at Oakland Hills. But there was something even more special. "Having my parents here for this was amazing," says McLachlin. "Other relatives came a long distance, too. The only person missing was my wife. She didn't want me to be distracted, and I can't wait to get back to Phoenix to be with her."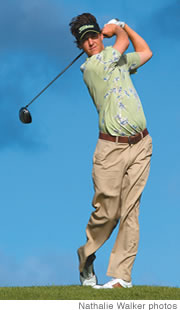 Parker McLachlin: seven-stroke win in Reno
Another phenomenal performance last Sunday was turned in by former Warrior QB Colt Brennan in his Washington Redskins debut against the Baltimore Colts in the Hall of Fame game. Brennan started the second half and immediately drove his team to score with his first touchdown pass. Later, on a play that collapsed, Brennan scrambled to buy time before finding a running back in the end zone for another touchdown. Brennan completed 9 of 10 passes for 123 yards and the two TDs, and no interceptions.
"Yeah, it's a good start. The atmosphere was so great there with all those legends that I was dying to get in, " says Brennan. "I was excited to play."
And how much does he think this will help him in making the roster?
"In my position you don't get many reps, so when you do get an opportunity, you've gotta make the most of it."
The performance looked utterly familiar to Warrior fans, who expected to see Brennan looking composed and accurate and throwing TD passes.
"I'll just keep learning and trying to get better, and hopefully everything will work out," says Brennan.
Seems as if in just one quarter, Brennan made himself a hard man to overlook.
Also on Sunday, Philadelphia Phillies outfielder Shane Victorino smacked a three-run homer to beat the St. Louis Cardinals 5-4.
Victorino is becoming a symbol for the feisty Phils.
Not only is he on a tear at the plate, but he plays a nifty center-field and is dangerous on the basepaths - as Atlanta Braves catcher Brian McCann can attest, after being knocked senseless by Victorino in a clean collision at home plate.
Most Recent Comment(s):