A Bigger, Stronger Alama-Francis

By
.(JavaScript must be enabled to view this email address)
Friday - August 20, 2005
|
Share

Del.icio.us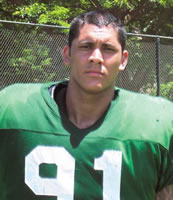 Ikaika Alama-Francis
Some of the standouts on this year's University of Hawaii Warrior football team will be familiar names. At least one, Ikaika Alama-Francis, is more recognizable to basketball fans. Expect that to change early in the 2005 season. Alama-Francis enjoyed an exemplary roundball career at Kalaheo High School, earning All–State honors in his senior season. An excellent shooter, he combined a lean athleticism with a solid work ethic and decided to walk on at the University of Hawaii. "I felt like I was improving on the basketball court," says Alama-Francis. "I loved the pace of the game."
After working primarily with the scout team his freshman year, Alama-Francis decided his prospects were not as bright as he'd hoped.
"I didn't feel my basketball career was moving in the right direction," he says. This led to a decision to try out for football, which the casual observer found strange, since Alama-Francis had not played football at Kalaheo, and had only one year of Pop Warner. His father, Joe Francis, a QB, after playing at Kamehameha led Oregon State to the 1957 Rose Bowl and was drafted by the Green Bay Packers, but his pro career was cut short by broken legs suffered in two different preseasons. And his brother John played running back for a couple of seasons for the Los Angeles Rams.
"It was really just a gut feeling," says Alama-Francis about the switch. "I knew it would take some time to get up to speed."
The most difficult part in making the transition was building up a frame that was basketball trim. Alama-Francis was 6 feet 6 inches and 200 pounds, too thin to play defensive end at the Division I level.
"Our strength and conditioning coach, Mel deLaura, told me I had to hit the weights and eat a lot," says Alama-Francis. "When I started I could only do one rep at 225." That has changed dramatically in the last 18 months. Alama-Francis now weighs 260 pounds and can bench 225 pounds 25 times.
"We don't have anybody who works harder than Ikaika," says UH head coach June Jones. "He does everything you ask off the field, and gives total effort every snap."
Ironically, Alama-Francis credits his basketball background for his rapid football progress.
"I love to run, and for basketball you have to be in great aerobic shape," he says. "For football, it's just seven seconds at a time, but you go all out. And you always had to bend your knees in basketball and get low. That's helped a lot."
Alama-Francis has learned to make his primary goals short term.
"I just say I'm going to be my absolute best today. (Give) everything I've got on every play," he says. "That seems to be working." One recent practice saw Alama- Francis in the offensive backfield time and again. He now has some strength to go with his natural speed and it hasn't been lost on his coaches.
"Jerry (Glanville) and I were talking the other day, and we said we didn't have anybody like him in Houston and we didn't in Atlanta, either," says Jones.
"Jerry can't believe Ikaika never played until about a year ago."
The Warriors need to improve defensively if they're going to have a successful year, and it has to start up front. Alama-Francis looks to be a big part of any defensive turn-around.
"I'll tell you something, Ikaika will be a huge impact player for us," says Jones. "He's better than Travis LaBoy right now. And as good as he'll be this year, wait 'til he's got a year of experience under his belt. Next year he'll be scary."
For Alama–Francis, the best moment so far was when the head coach awarded him a football scholarship last year. His commitment is quite simple. "I'll do whatever it takes, as long as it takes. This is my chance."
Most Recent Comment(s):