A History Of Great Holiday Hoops

By
.(JavaScript must be enabled to view this email address)
Friday - December 22, 2006
|
Share

Del.icio.us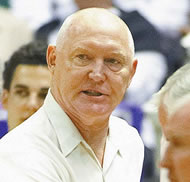 The last Classic for Coach Riley
Wallace
This week is the 43rd edition of the Rainbow Classic Basketball Tournament. If you're a fan of UH basketball, you probably recognize what the tournament has meant to the Hawaii program.
Each year the Rainbow Warriors invite seven teams to participate in what has become the last of the eight-team holiday tournaments. Until recently, the tournament has run between Christmas and New Year's Day. Now, it takes place between Dec. 20 and 23. The change took place because coaches were no longer willing to begin their conference play immediately after returning from the islands; some conferences even schedule league games in the final days of December.
Whether pre- or post-Christmas, the tournament traditionally awakens Hawaii fans to the basketball season. For 26 of the 43 classics, UH head coach Riley Wallace has been on the bench, the first six of those as an assistant to former coach Larry Little. It's hard to believe that this will be his last one. No one is more aware of how the Classic has promoted Rainbow Warrior basketball.
"I've always said there are really three seasons," says Wallace. "First the non-conference, then the Rainbow Classic, which brings the best competition, and then the conference season. We've had some big wins."
It's hard for Wallace to rank the Classics; different years for different reasons.
"I remember 1988 when we beat Purdue in the semis, and played Illinois for the championship. That was my second year and I felt like we turned it around," Wallace says. "And in '92 we had North Carolina, Kansas and Michigan and they all went to the Final Four.
"But the biggest had to be 1997 when we beat Kansas."
That may have been the biggest win in UH history, but there have been others of note. The Ray Reed led victory over Pittsburgh in 1990, and for sheer improbability, the 21 point comeback for an overtime win over Butler in 2002. Every year brings four straight days of non-stop hoops action, and it's a basketball junkie's dream. Even the consolation rounds provide a little extra round ball during the afternoons.
Want big names? Michael Jordan played here. Also, Isiah Thomas, Byron Scott, Pete Maravich, Latrell Sprewell and Paul Pierce, to name a few. A number of big-time coaches have passed through as well. How about Bob Knight, Dean Smith, Jim Valvano, Denny
Crum and Roy Williams?
"They've all been here," says Wallace. "It's like a who'swho of college basketball."
And what does the Hawaii coach think of participating in his final tournament after all these years?
"I haven't thought about it," says Wallace. "I guess I might, at some point, but I haven't thought about it at all."
This week offers the spectator trifecta of the year with the Classic semis on Dec. 22, the championship round on Dec. 23, and the Sheraton Hawaii Bowl on Christmas Eve.
A joyous holiday season to all, and happy viewing!
Most Recent Comment(s):