A Small Forward Who Plays Big

By
.(JavaScript must be enabled to view this email address)
Friday - January 12, 2007
|
Share

Del.icio.us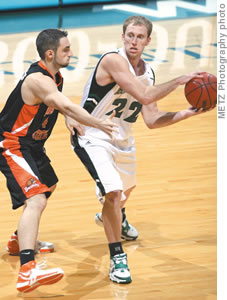 Riley Luettgerodt says he's more of a scorer
than a shooter
Each year the University of Hawaii basketball team welcomes new additions. Inevitably, at least one of the newcomers serves notice by his play that he can't be ignored.
This year that player is Riley Luettgerodt.
The Gladstone, Ore., native is a 6-foot-5-inch small forward who plays bigger and will compete on the backboards with larger men.
"I like to get in there and bang," says Luettgerodt. "It's not just athletic ability, it's position and timing." That part of his game may have a genetic component. His older brother Justin was an All Mountain West linebacker at BYU, finishing his career in 2005.
But Luettgerodt has opened eyes with his offensive prowess. He is a sweet jump shooter, has a terrific jump stop, and is equally adept at taking the ball to the basket. He goes in strong and either makes the bucket or draws the foul.
"I would say I'm more of a scorer than a shooter," says Luettgerodt. "I try to just take what's there."
At the start of the season, Luettgerodt found himself in an unfamiliar position. He was on the bench, and rarely called upon. While it may have surprised him, it didn't surprise the other Riley, Coach Wallace.
"It takes some time with the new guys to figure out how to get their game into our system," says Wallace. "And he had to learn it so he didn't need to think so much. Now he's finding his way on offense. Defense still needs work, though."
In some ways it seems right that Luettgerodt ended up at UH. Former Rainbow Warrior point guard Mark Campbell coaches at a junior college near his home, and would call Riley up to work out. And his own junior college, Chemeketa, had sent the Rainbow Warriors Chris Botez.
"It seemed like everyone thought Hawaii would be a good fit for me," says Luettgerodt. "I was offered by Montana, Portland State and San Jose State, but after I visited Honolulu, that was pretty much it."
The Rainbow Warriors are glad he selected Hawaii. With an injured Ahmet Gueye giving him his first start against Tennessee-Martin, Luettgerodt responded with 17 points and 13 rebounds. He followed that with a 16-point effort against New Mexico State. His work has allowed Riley Wallace to use a small lineup, moving Bobby Nash to the power forward spot.
It probably won't shock you to find out that Luettgerodt does-n't mind whether he starts or not, just so long as he contributes.
"I'm good with whatever way Coach wants to use me," he says. "I just want to help us win."
He has also enjoyed having his parents, Kevin and Kirsten, see him play. "They came over for the Rainbow Classic," he says, " and they'll be at Fresno and Boise."
As far as the future is concerned, the sociology major says he'd like to look into sports broadcasting or possibly join his brother in the real estate business. But that can wait.
"I've got plenty going on with school and basketball," says Luettgerodt, "For now, that's my business."
Most Recent Comment(s):