A Wie Chance For Image Change

By
.(JavaScript must be enabled to view this email address)
Friday - August 12, 2009
|
Share

Del.icio.us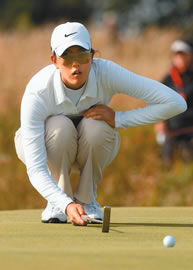 Michelle Wie's recent play, including here at the Women's British Open, earned her a place on the U.S. team in the Solheim Cup
When U.S. Solheim Cup captain Beth Daniel used one of her at-large picks on Michelle Wie, she not only strengthened the U.S. team, but may have turned around the career of the former prodigy. Wie has never been "one of the girls" on the LPGA tour. The constant family presence has left little room for hanging around the locker room.
"Michelle has been on an island on the tour," says NBC golf analyst and Maui resident Mark Rolfing. "The team room during the Solheim Cup is going to be an opportunity for players to see a side of Michelle they haven't seen: her sense of humor. It could completely change the way she's viewed, and it may give her a comfort level she's never had."
And Wie's game may be well-suited to match play as her weakness has been the occasional blown hole. In this format, according to Daniel, "a triple won't cost her three strokes, it'll only cost her one hole."
Wie's length will be an asset also. As well as she has played, most recently to an 11th-place finish at the women's British Open, her selection was almost inevitable. "There isn't any doubt that Michelle deserved this," says Daniel. "She earned her spot on the team."
While Wie was 13th in points, she had accumulated them in only one year; all the other players had two.
"It's amazing to me that there is still resentment about her selection," says Rolfing. "She's such an obvious pick."
Some still can't get over the fact that Wie makes far more money that any other female golfer and still hasn't won a professional tournament.
A great performance in the Solheim could mean widespread acceptance for Wie, and it bodes well for her future.
---
With UH football less than four weeks away, the players and coaches are down to the serious business of preparing for the opener. Now they can put behind them the circus that descended after Coach Greg McMackin's unfortunate remarks at the WAC media days. Lost in the shuffle has been the hiring by Portland State of Hawaii grad assistant Craig Stutzman, who had functioned as the receivers'coach. Grad assistants receive tuition and a small stipend but no health benefits, and Portland State offered a full-time position.
Now Coach Mac has a dilemma because it will be nearly impossible for a replacement G.A. to step into Stutzman's shoes. Currently there are more coaches on defense than offense and the receivers may have to be coached by committee.
Ironic, because this may be the deepest corps of pass catchers in UH history.
---
Last week's announcement that ESPN will carry the Nov. 28 Navy-Hawaii game means Hawaii will have three appearances on national television.
Kickoff has been moved from 6:05 to 5:30 p.m. for the Navy-Hawaii game.
---
If you can't wait for Sept. 4 and the season opener against Central Arkansas, head down to lower campus for practice. Hawaii is one of the rare schools to open their practices to the public.
Season tickets are still available.
And this year's Pigskin Pigout will be held Aug. 20 at Murphy's Bar and Grill. Tickets are available now at the restaurant.
Most Recent Comment(s):