Acrash course in soccer

By
.(JavaScript must be enabled to view this email address)
Friday - January 09, 2009
|
Share

Del.icio.us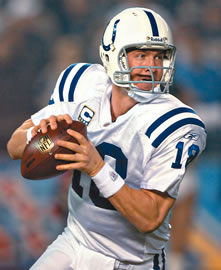 Peyton Manning didn't get totouch the ball in the Colts' OTloss
I know nothing about soccer. Well, almost nothing.
I do know that the object is to put the ball in your opponent's net using your feet or head. I didn't grow up with soccer, never played or even watched it as a kid. It often appears to me like endless running with scoring so rare it always seems like a surprise.
But that will have to change, as my 5-year-old son has his first soccer practice this week. A quick trip to the sporting goods store and we had the necessities - a ball (size 3), shoes and shin guards.
There will be no danger of me becoming "soccer parent" - you know, the kind who knows more than the coaches and lets everyone hear it at the top of his or her lungs. I will cheer wildly for any player who manages to momentarily halt the endless chase by scoring a goal.
I also will show tremendous gratitude to those brave souls who volunteer as coaches of these 5-year-olds. That age group requires infinite patience in any sport.
I will dutifully provide snacks when requested and will never second-guess an official; surely there would be no better way to expose my ignorance. "Hey c'mon, he can't do what he just did, can he?"
No, I will be the soul of decorum during competition, and afterward I will congratulate Max on a game well-played, as long as he runs. The race may not always be to the swift, but mostly it is.And I'm thinking that within a year or two of close observation, I may even be able to offer a relevant pointer, or at least a cogent comment.
Let the games begin.
Almost nobody is neutral about overtime in football. Since its adoption, I greatly favor the collegiate overtime. Every play has an edge-of-your-seat feel, each team gets a chance to score, and it does contain the most elemental battle of offense against defense.
No, it's not perfect. It does exclude special teams play. And the teams are in field-goal range when they place the ball on their opponent's 25 yard line.
The NFL overtime is like the start of a game. A coin toss is followed by a kickoff, and the teams play for a quarter or until somebody scores (note to Donovan McNabb: Only in the playoffs must the teams play until someone scores).
My problem is the team that wins the coin toss has a huge advantage. The team that wins the toss scores on its first possession 34 percent of the time and wins the game 58 percent of the time. That's just too much of an edge.
To drive home the point, you only needed to look at Peyton Manning's face when San Diego won the OT toss and went in for the score. You couldn't help but think it might have been different if Manning had a chance to get on the field.
Most Recent Comment(s):