All Tiger Needs To Do Now Is Win

By
.(JavaScript must be enabled to view this email address)
Friday - February 24, 2010
|
Share

Del.icio.us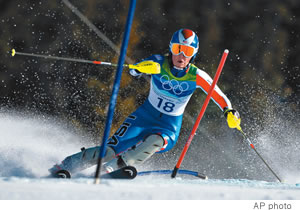 Lindsey Vonn: the next big marketing phenomenon?
By the time you read this, Tiger Woods will have performed his mea culpa and announced his return to golf - rumored to be Arnold Palmer's Bayhill event March 25-28.
Forget whether fans and sponsors will forgive him. The real question is: Will all that has transpired affect his golf game? I can't imagine how. Tiger is one major win away from placing this episode in his rear-view mirror, and I won't be shocked if it happens at Augusta, two weeks after Bayhill.
* It's hard for most Americans to comprehend how important hockey is to Canadians. The pressure on Sidney Crosby and the Canadian Olympic team to bring home the gold medal is quite serious. A silver medal would be regarded as an unmitigated disaster. Scalpers are reportedly asking for $50,000 for two good tickets to the hockey final. If it's Canada vs. Russia, the prices could even go higher.
* The Winter Olympics is bringing NBC huge ratings in prime time and should make the network a handsome profit. Lindsey Vonn may be the next big thing in sports endorsements.
* Sports fans must be the most gullible people on the planet. After the NBAAll-Star game, watched live in Dallas by more than 108,000 people, MVP Dwayne Wade was talking about how he just wanted to "get the win." Sure, D-Wade. What could be more important than winning the utterly meaningless All-Star game? The action resembles street ball shows far more than anything recognizable as basketball. Defense is completely absent, and alley-oops are the order of the day, It's hard to believe so many people would part with hard-earned cash to sit in Cowboys Stadium and watch it. Who do you root for? Let's go, East! The scary part is that a poll showed that a majority of 18- to 24-year-old men say it is their favorite basketball event.
* North Carolina basketball coach Roy Williams said last week he's been offered a large number of NBA coaching jobs over the years, including the Lakers and Celtics. Considering how the Tar Heels have played this year, he might be wishing he'd taken one of them. UNC won't make the NCAA tournament this year, but they'll likely return to form next year. There are a number of anomalies this year. The Atlantic 10 should get at least four NCAA bids, the PAC 10 only one. In addition to Carolina, UCLA, Louisville and Cincinnati are all likely to be absent from the dance.
* Spring training is under way for pitchers and catchers, and once again some are complaining about the length of the preseason. It's true that position players don't require as much time, but owners have a nice thing going with sold-out Grapefruit and Cactus League games. So long as dollars are flowing in, don't expect the exhibition season to be shortened anytime soon.
* College baseball is under way, and a UH game at Les Murakami Stadium is still the best value for the recreational dollar in Hawaii.
And the Rainbows look promising - they could be good enough to get to the post-season if they stay healthy.
Most Recent Comment(s):