Another Major Without Tiger

By
.(JavaScript must be enabled to view this email address)
Friday - June 15, 2011
|
Share

Del.icio.us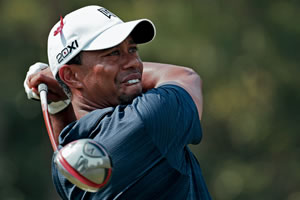 Tiger Woods will miss this week's U.S. Open. AP photo
It won't seem quite the same when the U.S. Open begins at Congressional this Thursday. Tiger Woods won't be in the field, announcing that he could do further damage to his left knee and Achilles tendon if he attempted to play.
While it undoubtedly is the smart move, it also raises questions about Woods' competitive future. Golf analyst Andy North says he was happy that Tiger would take more time to heal, so that "he can come back 100 percent and play like the Woods we all know."
Nice thought, but former Ryder Cup captain Paul Azinger gave voice to what many golf fans are speculating: "A left knee injury - and he's had those surgeries - can be career threatening."
Woods is not admitting to those doubts, but he's got to have them. If anyone could come back to lay claim to past greatness, you'd think it might be Woods, but the longer the healing process takes, the greater the number of people inside and out of the golf world who believe the age of the Woods has passed.
* Watching the NBA finals between Miami and Dallas, it is becoming increasingly apparent that the Mavericks are the far more polished offensive team. In terms of ball movement and precision passing, the Mavs are head and shoulders above the Heat, who are too often running the clock down, isolating and going one on one. And yet the Heats' overwhelming athleticism and blazing transition game may be enough when combined with suffocating defense to bring Miami the title.
As Miami improves its half-court offense in future years, it may be harder to beat than at present.
And enjoy this one because we may be watching our final NBA games for quite some time, considering the probability of a protracted labor disagreement.
* Doesn't seem like all that long ago that Ohio State won the pitched recruiting battle for Terrrelle Pryor, who many thought would lead to Buckeye domination of college football. Now Pryor follows Jim Tressel through the door marked Exit. It seemed that the talented QB was not going to shake the controversy about memorabilia sales and numerous loaner cars. Most feel he's a lock to declare for the NFL's upcoming supplemental draft.
* Congratulation to Kolten Wong and Lenny Linksy, who went in the first and second rounds respectively in the recent MLB draft. Wong's decision to turn down $75,000 three years ago turned out to be a brilliant move. The tremendous amount of work put in by Wong and his dad Kaha has paid off handsomely. One source put Wong's value to the St. Louis Cardinals at between $1.1 million and $1.5 million in signing bonus. That's nice appreciation.
And you hope it will lead other young Hawaii prospects to consider forgoing relatively small money by signing out of high school in order to go to school and develop in college.
Linsky was taken by Tampa Bay, and the two become the highest-drafted tandem in UH baseball history.
Most Recent Comment(s):