As Favre Waffles, Colt Searches

By
.(JavaScript must be enabled to view this email address)
Friday - August 11, 2010
|
Share

Del.icio.us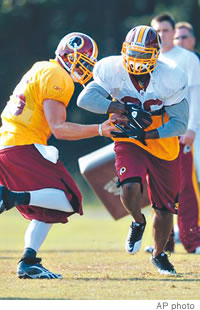 Colt Brennan hands off to Clinton Portis during practice Aug. 1, the day before he was released by Washington
Last week's announcement that Brett Favre was retiring let us know that it's almost time for football season. Seemingly an annual event, Favre took only 24 hours before he told ESPN's Ed Werder that he wasn't retiring, at least not yet. It was all depending on his ankle, which was operated on in May. This year's "waffle special" does appear marginally different from the indecision of previous years because of the injury.
I believe Favre when he says it's not about the money because he is one QB who clearly loves to play. In fact, one feature of Favre's career has always been the kid in the sandlot joy that he wears on his sleeve, unlike the Manning brothers, who typically appear to be suffering from gastrointestinal distress. That may be central to Favre's inability to stick to a decision. Following the
season, beat up and exhausted, Favre makes the sensible decision any middle-aged man with financial security would make: He retires. But as spring becomes summer and the body feels better, he starts to pine for the primal thrill of competition, adding to that pull is the quality of his Viking team. They expect Adrian Peterson to bounce back from a sub par 2009 and the other weapons with Sidney Rice, Bernard Berrian, Percy Harvin and Visanthe Shiancoe all healthy and full throttle. His line should be better and the defense is one of the league's best.
The only way Brett Favre retires is if the ankle won't permit him to play at a high level.
On the subject of QBs, the Washington Redskins' decision to release Colt Brennan saddened many Hawaii fans who were hoping a healthy Brennan might be able to impress new coach Mike Shanahan in the preseason. Now the Skins have made a clean sweep at signal caller, having previously traded Jason Campbell and cutting Todd Collins.
It appeared to surprise Brennan as well as some Washington media such as Washington Post columnist and sports talk host Mike Wise. Both felt Brennan would be judged after exhibition games, but it has always been difficult to gauge Shanahan's intentions.
Plus, nobody who had seen Brennan at mini camp thought he looked particularly sharp. It will be difficult to get into somebody's camp at this stage; some are suggesting that Canada might be his next best bet. It worked pretty well for Warren Moon and Doug Flutie.
This is the season to pay close attention to Hawaii youth baseball teams playing in national tournaments on the Mainland. Hawaii teams fare very well in these events and are well-known now for having won the Little League World Series twice. Maybe too well-known, because this year the Hawaii entrant has been moved out of the Northwest division and plays in the West, where they'll have to compete with the powerhouse teams from Northern and Southern California.
Most Recent Comment(s):