Best All-Star Game; Tiger's Course?

By
.(JavaScript must be enabled to view this email address)
Friday - July 14, 2010
|
Share

Del.icio.us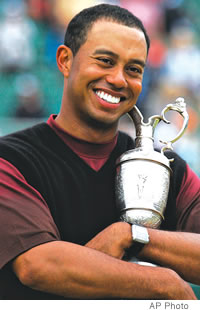 Tiger Woods: Where did his short game go?
I suppose if there weren't some level of controversy about who's in and who got snubbed, it wouldn't be the All-Star game. The consensus appears to be that Joey Votto was the most deserving player left off the roster, although the Reds first baseman is likely to get in by special fan vote. But you had to love Phillies and National League manager Charlie Manuel when asked why he'd selected Ryan Howard over Votto. "Because he's my guy," Manuel said. No apologies, no dithering, just pure, unadorned nepotism. Every All Star manager does it, but I've never heard one so up-front about it.
But there were the usual feel-good stories like Reds pitcher Arthur Rhodes, who made the roster for the first time at the age of 40. And the future stars like Braves rookies Jason Heyward, who was voted in as a starter but will miss the game due to injury. But the beauty is that the key element in baseball, the lonely competition between pitcher and batter, is on display at full strength, making baseball the best of any sports All Star game. Now, if we could just see Joe Mauer swinging against Stephen Strasburg - oh well, you can't have everything.
* As the best golfers in the world head to St. Andrews this week, we're reminded that the Royal and Ancient has been a fantastic venue for Tiger Woods. He has won there twice and manages the course as well as anybody in the game. But it's the short-game mastery that has served him so well at St. Andrews, and that part of his game has yet to recover. Two weeks ago at the AT&T National he took 120 putts, an astounding number for Woods. But it was his short irons and wedges that put him into difficult positions on the greens, leaving him often with 10-footers for par, and denying him reasonable chances for birdies. That will have to change this week if Woods is going to pick up his 15th major championship.
* While it appears that the conference shuffle is on hold in college sports, a number of observers believe that the 10-member Big 12 is still on very shaky ground. The reason is simple: There is too great a disparity in revenues among Texas, Oklahoma and Texas A&M and the rest of the conference. First-year Texas Tech football coach Tommy Tuberville is already complaining, and if almost anyone outside of the big three gets another offer, they're likely to take it. The even revenue split in the Big 10 and SEC have provided those conferences with great stability, but the Big 12 can't see its way to that. The possibility of a University of Texas television network could make the problem even worse.
Most Recent Comment(s):