Big Apple Takes A Bite Out Of Fans

By
.(JavaScript must be enabled to view this email address)
Friday - July 08, 2009
|
Share

Del.icio.us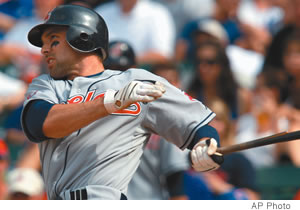 Mark DeRosa, seen here with the Indians, could help push St. Louis to a pennant
Upon learning that my family is headed to New York for a clan reunion, my colleagues have been asking whether I plan to catch a Mets or Yankees game. After pondering that for a bit, I decided the cons outweigh the pros. Let's see: an hour car ride to start, four mid-level tickets at $320-$400, another $80 or so in food and parking, and from the third inning on, a constant refrain of "Can we go home now, Dad?" Max and Finn, age 6 and 4 respectively, would be entertained as long as the junk food lasted. I don't mind when they want to leave a Rainbow baseball game early - that's a bargain. But add the premature departure to a $500 price tag and the decision is easy.
But I was presented an option that people around the country have been choosing for years: minor league baseball. The Brooklyn Cyclones is the Mets'Single A franchise. It has a new ballpark right on the water at Coney Island that seats 15,000, and best of all, tickets cost $12. The whole family in, out and fed for less than $100. If the kids wear out after five innings, no problem. And sure, it's not major league baseball, but if you've seen the Mets lately, neither are they.
It's no wonder that minor league attendance is up while major league attendance is down. The minor leagues offer good fun and don't break the bank.

The University of Hawaii football camps are now complete, and again this year were worth their recruiting weight in gold. Identifying the talented players early and offering them scholarships is clearly the way of the future. Especially with local recruits, being the first to show interest will pay great dividends.
And no, 15 is not necessarily too young, not with the way some kids are developing these days.

The best move in major league baseball in June was made by the St. Louis Cardinals, who acquired Mark DeRosa from Cleveland. That's fabulous protection for Albert Pujols in the batting order, and the Redbirds' pitching was already good. It figures that I heard almost immediately from Cardinal fanatic Riley Wallace. The former Rainbow Warrior basketball coach could hardly wait to gloat about the Cards and their chances.

Speaking of former Rainbow Warrior basketballers, I ran into Phil Martin last week. He's back visiting the Islands, but will head north to join the Canadian National team before returning to Italy for another year. He'll be joined on the Canadian national team by Carl English, another former Rainbow Warrior who just inked a lucrative long-term deal in Spain's top league. Good thing, because English now has one child and another on the way.

And don't count Anthony Carter out of Denver quite yet. After getting the right to first-round selection Ty Lawson, some thought A.C. might be done, but sources say Nuggets coach George Karl wants Carter back.
Most Recent Comment(s):