Bonds' Reputation Sinks Further

By
.(JavaScript must be enabled to view this email address)
Friday - April 13, 2011
|
Share

Del.icio.us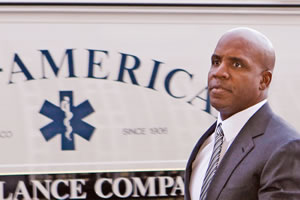 Barry Bonds arrives at a federal courthouse for his perjury trial April 8 in San Francisco
The jury is out - quite literally - on Barry Bonds.
Facing four counts stemming from his grand jury testimony, Bonds will wait to hear what a San Francisco jury decides on perjury and obstruction charges. Last week his defense team decided not to put on a case at all, announcing that they would not call any witnesses. The defense clearly believes that the prosecution failed to make its case against Bonds, and that the jury will find him not guilty.
But even if Bonds is exonerated, it appears his reputation has taken another hit. In particular, the testimony of former mistress Kimberly Bell was quite ugly. If you believe Bell, Bonds was incredibly verbally abusive and threatening. The trial did nothing to dissuade anyone from the opinion that Bonds is not a nice man.
And should Bonds beat the rap, his chances of being elected to the Hall of Fame have shrunk to next to nothing. It is likely that Roger Clemens also will be denied entry for much the same reason, meaning that two of the greatest baseball players in history - neither of whom needed any chemical help to reach Cooperstown - will only get there if they buy a ticket.
* When UConn defeated Butler to win the NCAA basketball tournament, much was made of the Bulldogs' woeful shooting performance, a hair under 19 percent. Was it the great Huskie defense or could it have been the ultra-tight rims at Reliant Stadium?
The answer is neither of the above. Ask anybody familiar with the Big East about the best defensive team in the conference and they'll tell you it's Pittsburg. Well, Butler didn't shoot that poorly against the Panthers.
And the rims might have been tight, but that wouldn't explain all the missed layups. Unfortunately for Butler they picked a bad night to go ice cold.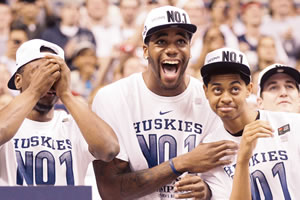 Connecticut guard Kemba Walker (left) cries as teammate Alex Oriakhi (center) and Jeremy Lamb (right) look up as Walker's number is added to the school's honor wall during a pep rally in Storrs, Conn., Tuesday, April 5, 2011. Connecticut beat Butler 53-41 in the NCAA men's college basketball tournament championship game in Houston on Monday. (AP Photo/Charles Krupa)
Hey, it happens. It doesn't lessen the achievement of getting to the title game two years in a row.
* File this next tidbit under Simply Amazing. Brad Stevens, Butler's 34-year-old coach, responding to questions about staying with the Bulldogs, said nobody has called him about a coaching position. Really? He's only the best young coach to come along in a couple of decades.
And to think Missouri hired Frank Haith, who had a losing conference record at Miami without even inquiring about Stevens.
Go figure.
* Expect good things from the Rainbow baseball team in WAC play. It seems like UH has the ingredients in place to make a run - lots of pitching, bats that have come alive and a defense that is rapidly improved.
According to coach Mike Trapasso, "The only WAC team that will get an at-large bid to the NCAA tournament is Fresno State. Anybody else, including us, will have to win the WAC tournament to get a bid."
Last year's UH team showed that winning the conference tournament is entirely possible.
Most Recent Comment(s):