Chow Is Doing Things His Way

By
.(JavaScript must be enabled to view this email address)
Friday - January 04, 2012
|
Share

Del.icio.us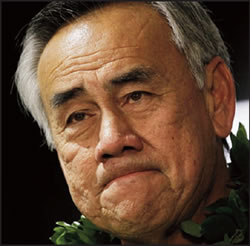 Chow faced difficult choices in his first days with UH. UH Athletics photo
The exciting news that veteran offensive mastermind Norm Chow accepted the University of Hawaii football head coaching job has given way to the more mundane work of any new coach and some of that work is not pleasant.
In particular, the process of notifying existing assistants that they will not be retained is one of the tough parts of the job.
As we head to print, Rich Miano, Dave Aranda, Brian Smith and Gordie Shaw have been informed that they will not be part of the new regime.
While many fans clamor for a coaching change, they only consider the highly paid outgoing head coach, who can retire to a life of relative ease.
Not so the assistants, who for the most part earn a fairly moderate salary, which in Hawaii is less than required to become a homeowner. Often they have young families and the work hours prevent many coaches' wives from working unless there is family help.
Yet this is what assistant coaches signed on for when they entered the profession.
And while many of us are hopeful that this or that coach will be retained, it is imperative that a new coach have the freedom to assemble the staff he believes can work together toward the difficult goal of restoring the program to the high-water mark.
Chow has waited a long time to become a head coach, and he's going to do things his way, with his guys.
As painful as it may be to see talented men who have become part of the community struggle to find new positions, no head coach worth his salt can afford to let his feelings affect the process of assembling his staff. This has always been a cruel but necessary part of the business.
And far more often than not, the former assistants will land on their feet and benefit from their UH experience.
The UH basketball team will start its final WAC conference schedule at home in a year where two things look certain.
First, the conference is down. Hawaii's win over Xavier represented the best win among WAC teams through Christmas week.
Second, this is a onebid (NCAA tournament) league, and judging by recent performances, the Rainbow Warriors look ready for the challenges ahead.
The addition of Miah Ostrowski is having a salutary effect on shooting guard Zane Johnson, and is a stabilizing influence on everyone else. Ostrowski has fabulous court sense and a terrific grasp of spacing. He also is adept at anticipating opponents on defense, which leads to steals. When he regains his shooting touch, he'll help even more.
The recently completed Hawaiian Airlines Diamond Head Classic showed how far future Hawaii conference opponent Long Beach State has come under Dan Monson. Looks like LBSU, San Diego State and Hawaii will be able to make significant noise in the Big West in future seasons.
Just in passing, those three have by far the biggest arenas in the conference.
Happy New Year and best wishes for a fabulous 2012.
Most Recent Comment(s):