Coach Cav finds an ohana at OSU

By
.(JavaScript must be enabled to view this email address)
Friday - June 15, 2007
|
Share

Del.icio.us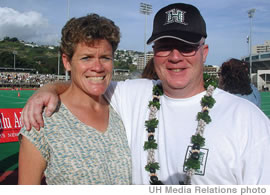 Laurie and Mike Cavanaugh
Had it been fiction, it would have been dismissed. Too fantastic, could-n't happen in real life. It not only happened, but it appears headed for a happy ending that would be envied in Hollywood.
A couple of years ago, University of Hawaii offensive line coach Mike Cavanaugh and his wife Laurie faced a difficult decision. He'd been offered the same position at Oregon State for a lot more money. It would mean the family could own their first home in Corvallis, where the cost of living, including housing, is a fraction of that in Hawaii. The problem was the Cavanaughs loved Hawaii. Both of their children, Shane and Blair, loved Hawaii. Mike had grown close to his players, and had become a surrogate father to many of them. He was particularly close to his Polynesian players. He loved that they played with heart and the sense of ohana. Not without misgivings, the Cavanaughs headed to Oregon.
Mike and Laurie knew she had polycystic kidney disease. It was inherited. It killed her father; an uncle and brother have had transplants and her sister may need one. It's been a fact of life for the Cavanaughs for a long time. This past year, Laurie's kidneys were operating at just 10 percent of capacity. Her doctor said it was time to find a donor. Family members began to be tested. None was a match. Friends began to volunteer to be tested. No match found there either. One day, OSU offensive coordinator Danny Langsdorf stopped by Mike's office."Hey Cav, I've been reading about this - I could do it," he said. "I'm going to get tested."
Incredibly, Langsdorf, 35, was a match. Langsdorf and his wife, Michelle, were an itinerant football family. Danny had left the NFL to join the Beavers staff the same time as Mike. They had worked together for two years."You know, as coaches we're always preaching family, togetherness," says Cavanaugh."But this was huge. An amazing sacrifice and commitment. It doesn't get any more family than this."
The other amazing coincidence was that Oregon Health and Science University Hospital in Portland is the nation's leader in kidney transplants. "You want to talk about stressful," says Cavanaugh. "But the hospital was amazing. They gave us updates every hour. It was me, Danny's wife, Michelle, and his parents." (Danny's father is a scout for the San Diego Chargers). "When the call came that the kidney was in and was working, there wasn't a dry eye in the house."
Both patients are recovering beautifully. Inside of six weeks they'll be able to resume all normal activity. "What a gift," says Cavanaugh. "There's an amazing feeling around here."
If you ever wondered if things happen for a reason, well, sometimes you just gotta believe.
"Hey, do me a favor," says Cavanaugh."Give a shout to everyone in Hawaii. All the e-mails, calls and prayers - we could feel it over here."
Most Recent Comment(s):