Colt Deserves Heisman Votes

By
.(JavaScript must be enabled to view this email address)
Friday - November 10, 2006
|
Share

Del.icio.us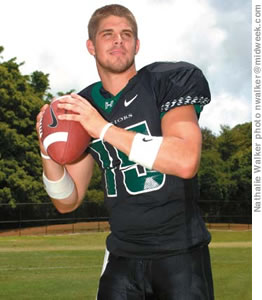 Colt Brennan
Time to believe your own eyes. After yet another huge performance by the University of Hawaii Warrior offense, a number of national analysts have begun to take note.
Why now? Before they would see naked stats, and it was easy to fall back on old biases and mis-apprehensions. Gimmick offense, horrible competition, system quarterback - all were variations on a theme. But it has changed because now the talking heads are watching tape and they are seeing the players perform in real time.
Three weeks ago, Lou Holtz was talking about the Alabama pass defense and said, "The Tide haven't given up 300 yards passing all year, except against Hawaii, and they start throwing the football at the airport." Doesn't really count, he was saying. File that one under gimmick offense.
Old Lou sounded a little different on Saturday. He and his partner Mark May couldn't have been more complimentary about Colt Brennan, Nate Ilaoa, the offense and June Jones. Now they're actually watching the Warriors in action. May went so far as to say that he's got Brennan No. 4 on his Heisman Trophy watch, and awarded him a helmet "sticker."
Is it unrealistic to hope Brennan gets into the Heisman conversation in a legitimate way? It might be. On the face of it, he belongs. The award is for the best player in college football that year. Period. It is not supposed to be for the best skill players on the best team from the strongest conference. It is not to be awarded to the player whose school has spent the most on mailings, web blasts, DVDs and Times Square billboards. It shouldn't have anything to do with your team playing in the BCS National Championship game, or your school having its own TV contract.
But, of course, these things matter. No player has won the award from a team that has three losses in 25 years - except for Ricky Williams from Texas, whose Longhorns were 9-3.
This year the leading candidates are from small, unassuming schools where athletics take a back seat to academia. Not!
Ohio State has been ranked No. 1 since pre-season, owns a 10-0 record, and if it wins out is a mortal cinch for the championship game. Their QB, Troy Smith, leads all the Heisman Watch polls. And he's having a great year. He has thrown for 2006 yards and completed 66.7 percent of his passes while tossing 22 TDs and just three INTs. His efficiency rating is 165.9.
Notre Dame is the biggest name in college football. Knute Rockne, Frank Leahy, the Gipper, Four Horseman, Touchdown Jesus. Every Irish game is contracted to NBC. When N.D. has a great player, he's got a chance at the Heisman. Former Irish star Paul Horning is still the only player in history to win the Heisman from a losing team. And this year they've got a real player in QB Brady Quinn. Big, strong, good-looking paragon of American youth. And good numbers too. Quinn has thrown for 2,579 yards, completed 63.9 percent of his passes, thrown 25 TDs against four INTs, and is rated at 150.04.
Colt Brennan toils in relative obscurity in the middle of the Pacific Ocean. He walked on at Hawaii. He's not even the best-known Colt in college football. That honor goes to Texas' Colt McCoy. Yet, look at the numbers. Brennan has 3,347 yards, completed 72.9 percent of his throws, has 39 TDs and six INTs. His efficiency rating is 189.96. He's on track to break the TD record, and if it ended today would easily be the most efficient passer ever.
Tell me that he doesn't deserve consideration. He plays in an offense where everyone, including the hot dog vendors, know he's going to throw.
He may not get to sit on the dais at the Downtown Athletic Club in New York on a December Saturday hoping to hear his name called, but if the award was what it was designed to be, Colt Brennan would indeed be in need of a plane ticket to NYC.
Most Recent Comment(s):