Combining Tryouts And A Clinic

By
.(JavaScript must be enabled to view this email address)
Friday - May 07, 2005
|
Share

Del.icio.us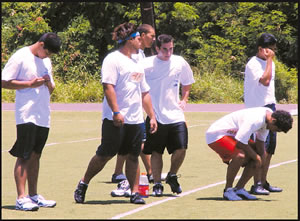 Local prep players will perform for college coaches at the combine
High school football players aspiring to play college football have a unique opportunity to showcase their abilities at the Pacific Islands Athletic alliance combine to be held at St. Louis School on Saturday, May 21. And for the first time their coaches will be able to learn from some of the nation's top college coaches at a special clinic May 20 at the Outrigger Reef Hotel.
College coaches love to see prospects show off their wares, and the combine will be similar to the one held for prospective NFL players each year in Indianapolis. Restricted to the classes of 2006 and 2007, players will participate in a range of speed and agility drills for time; recruiters gain hard information useful for making decisions and awarding scholarships.
The combine is run by former Saint Louis and Utah quarterback Darnell Arcenaux and assisted by former Damien and UH standout Eddie Klaneski. Interested athletes should contact their high school coaches as only 120 players can be accommodated.
"This is a great tool for college coaches," says P.I.A.A. director Doris Sullivan. "The response from them has been really enthusiastic."
When Sullivan contacted the coaches she knew would be coming to the combine about participating in a clinic for area coaches, she had hoped two or three would be willing to participate.
"The reaction from them has been unbelievable," says Sullivan. "Every single one I contacted said they'd be happy to do it."
A partial list of the coaches at the clinic includes Ohio University coach Frank Solich (formerly at Nebraska), San Diego State coach Tom Craft, as well as offensive line coach Ed White and linebacker coach Andy Buh. UH will be represented by secondary coach Rich Miano, quarterback coach Dan Morrison, receivers coach Ron Lee and strength coach Mel De Laura. Also participating will be Chris Tormey (LBWashington), Ken Delgado (DLCal), Keith Uperesa (OL–UNLV), Mike Fanoga (DL-NMSU), Bill Bush (special teams, Nebraska), Steve Caldwell (DE -Tennessee, and Eric Garcia (special teams- Alcorn State).
Each coach will offer specific instructions for their positions on drills, techniques and skills specific to high school coaching, and youth football coaches are also welcome. The setup will feature four rooms with two offensive and two defensive sessions running concurrently. The clinic will begin at 4 p.m. and will be followed by a meet and greet with pupu and beverages. The cost will be $40 in advance, $35 for staff registering four or more coaches at the same time. Late registration or at-the-door sign-in will cost $45.
"We're thrilled to have coaches of this quality," enthuses Sullivan. "We've never had this large a gathering of coaching talent in a clinic setting in Hawaii before."
There is space for 200 at the clinic. You can contact Doris Sullivan at 261-5000 or at .(JavaScript must be enabled to view this email address), or contact Sean Saturnio at Waipahu High School.
Also being offered by P.I.A.A is a two-day SAT workshop open to all students in grade 9 through 12 that will include instruction on the new SAT essay section.
Dates are May 22 and 29. All student athletes should remember that without qualifying grades and test scores, no athletic scholarships are possible!
Most Recent Comment(s):
Commenting is not available in this weblog entry.