Conference Changes Could Hurt UH

By
.(JavaScript must be enabled to view this email address)
Friday - May 19, 2010
|
Share

Del.icio.us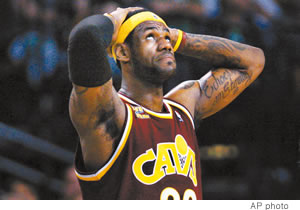 LeBron James checks the scoreboard against the Celtics and doesn't like what he sees
There's little doubt that the college sports landscape is going to change. It's just a matter of when and how.
Last week's reports and denials about Big 10 expansion have a lot of administrators nervous. While the changes will be like a winning lottery ticket for some schools, for others the results will be catastrophic.
What makes it difficult is nobody knows exactly how it will go. Will the Big 10 go to 16? Does the SEC then make a move? What happens to the Big East? The Big 12 could lose teams, so who will they add? And what about the Pac-10? One rumor has the Pac-10 absorbing Big 12 schools Texas, Texas A&M, Oklahoma, Oklahoma State and Colorado, plus Utah from the Mountain West.
The uncertainty extends to the WAC. If the cannibalism is extensive, both the WAC and Mountain West could find themselves in a precarious position. You have to hope that WAC commissioner Karl Benson has some kind of contingency plan.
Hawaii, in particular, is very vulnerable. The distance and travel expenses may be construed as serious obstacles when conferences are refigured, which is why the planning function is especially important. Waiting till everyone moves may be too late. It would be hard for UH to survive without conference affiliation, so these are critical times.You'd hope the powers that be are giving this the proper attention.
The summer of LeBron is about to begin and many observers believe that King James may be closer than ever to leaving the "mistake on the lake." We are going to witness one of the great seductions of all time, and no one seems sure who will be the eventual winner.
It seems clear that more than money will be in play here. Securing LeBron will require the type of surrounding cast that will give him a real chance to win a title. You can't win the championship without at least a legitimate No. 2 option, and after losing to Boston in six games, it's clear that Cleveland does-n't have it.
But if the Cavs could just get Dwayne Wade to come over ...
Could this be the year for the Rainbow Wahine softball team? They've never been to the College World Series, but this is head coach Bob Coolen's best team. It has power throughout the lineup, plays good defense and has Stephanie Rickets developing into the kind of dominant pitcher you need to be one of the elites in women's softball.
It wouldn't hurt to get a little bit of luck as well. Ah, Oklahoma City in the summertime!
Wanted: Golf swing coach. Long hours, low pay, must be available 24/7 and able to work under the media radar.
Well, it didn't work for Butch Harmon or Hank Haney forever, but it sure increased their notoriety. Tiger Woods may not be the easiest pupil, but precedent indicates that whoever takes the job should share in major glory. Nobody seems to know how serious the neck problem that caused Woods to withdraw from the Players Championship is, but its hard to imagine that he won't tee it up in the U.S. Open at Pebble Beach, site of his largest margin of victory in any major.
Most Recent Comment(s):