Cutting jayvee sports? A short-sighted idea

By
.(JavaScript must be enabled to view this email address)
Friday - July 25, 2008
|
Share

Del.icio.us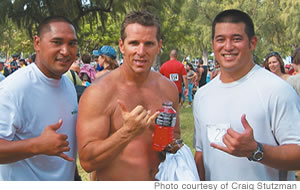 Ikaika Malloe, Rich Miano and Craig Stutzman
The recent disclosure that DOE budget cuts include lopping off $1 million of the money that goes to high school sports is extremely disturbing. Public-school athletics are seriously underfunded as it is. They receive $4.2 million out of a DOE budget of more than $2.3 billion.
Something drastic will have to happen if this cut is made. One suggestion is to eliminate JV sports.
I tried to think of a worse idea and couldn't come up with one. The ninth- and 10th-graders who make up JV rosters may be the most at-risk group in the school system. Many of these young people are at crossroads in their life. Deprive them of mentors and positive role models as well as directed activity in the afternoons, and some of them will be lost forever. They'll still be around, of course. You'll see them on court dockets, in prisons and in rehab centers with the attendant costs and consequences.
It wouldn't take too many kids falling through societal cracks to incur costs that dwarf the million dollars you'd save now. When you hear of a proposal so lacking in foresight, you don't have to take it. Let your legislators know they will be held responsible for courses of action that betray our youth and our future.
In terms of effect, high school sports should receive more money, not less. Then the high school athletic directors could spend more time overseeing their programs and less time working as fundraisers.
The latest chapter in the Michelle Wie saga looks costly on the surface. Her disqualification from the State Farm Classic for failing to sign her scorecard meant her best effort in more than two years will not bring her the prize money she needs to secure an LPGA tour card. Her options may be limited to accepting whatever exemptions are offered, attending Q school or playing on the Futures tour.
What is being somewhat overlooked is that Wie is playing a whole lot better. She's regaining her confidence, and seems to be smiling more.
And that serves as a reminder that Wie is a prodigious talent capable of making it back to the upper echelon of the LPGA tour.
She is still one of the biggest draws in golf. It would be fun to watch her recapture the joy in her game, and it would be a huge plus for the LPGA.
Now, if the rest of Team Wie would just back off and let Michelle develop into an independent adult, maybe she could reach her outsized potential.
Greg Norman struck a blow for middle age when he contended in the British Open at the age of 53. Norman's play to a third place finish earns him an invite to Augusta next April. Good on ya, mate.
And striking another mark for the mature generation was 45-year-old UH defensive backs coach Rich Miano, who bested 34-year-old D-line coach Ikaiki Malloe and 20-something receivers coach Craig Stutzman in last week's Tin Man Triathlon.
Miano was happy to beat his colleagues but not happy with his 2:55 finish. "I lost about 15 minutes repairing a broken pedal on my bike and then I cramped up running on Monsarrat Avenue," he says. "Next year I'm going to break 2:30."
I wouldn't bet against him.
Most Recent Comment(s):