Darker Days Ahead At Miami

By
.(JavaScript must be enabled to view this email address)
Friday - August 24, 2011
|
Share

Del.icio.us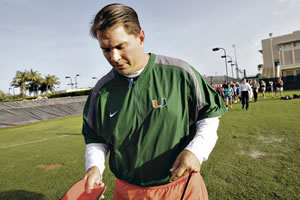 Al Golden: good luck recruiting now. AP photox
It probably didn't come as a great surprise to most that there had been violations committed by the University of Miami football program.
The shocker was the length of time and the breadth of the violations a complete smorgasbord of improper benefits including cash, prostitutes, jewelry, high-end parties in mansions and on a yacht, comped restaurant and nightclub visits, even an abortion! All provided by a booster who apparently had nearly unlimited access to players, coaches and administrators.
If the allegations hold up to the light of day, it will have constituted the worst pattern of egregious violations in the entire history of the NCAA.
Nevin Shapiro is the booster in question, He is serving a 20-year sentence in federal prison for his part in a $930 million Ponzi scheme. He freely admits that being abandoned in his legal time of need by those he had helped was part of his motivation in spilling the story to Yahoo sports reporter Charles Robinson.
Unfortunately for the U, Shapiro is a pack rat with unbelievable records and documents to support his allegations. Nobody at Miami will come off looking good here.
And the scope of the transgressions makes it a near certainty that those dreaded words "lack of institutional control" will be invoked, opening up Miami to the severest of sanctions.
Players accepting large cash payments, such the $50,000 received by Butch Wilfork (now with the Patriots), sounds quite amazing. Any player has to know that's wrong, but former Hurricane quarterback (and NFL Hall of Famer) Jim Kelley spoke for thousands when he said, "If a guy had offered me $1,000 when I was playing, I can't say I wouldn't have taken it."
Likewise for the meals and bar tabs. It isn't hard to see how one violation led to the next, but where was the oversight?
Another irony is that then athletic director Paul Dee served on the NCAA infractions committee and handed down the sanctions against USC. And he never heard that Shapiro was on the stroll in South Beach with many of his players and for almost a decade? Ouch.
One of the saddest story lines is that the people who should be punished are mostly gone, and the ones who will suffer weren't even there when this was going on. First year head coach Al Golden truly has his hands full how on earth does he recruit anybody decent now? He'll be lucky to draw athletes as good as the ones he signed at his last stop, football powerhouse Temple. And if Miami is handed the death penalty, we know from SMU's experience that it means two decades of devastation. That means that some of the people who will suffer from the sanctions haven't even been born yet.
I don't think the NCAA will ever use the death penalty again, but if it does it's going to be pronounced against the University of Miami.
Most Recent Comment(s):