Different Times For College Coaches

By
.(JavaScript must be enabled to view this email address)
Friday - January 06, 2010
|
Share

Del.icio.us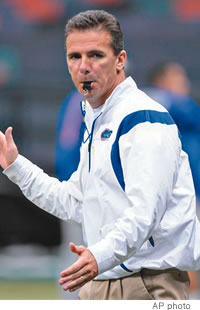 Urban Meyer coaches his Florida team last Tuesday in New Orleans, preparing for the Sugar Bowl
The coaching profession has undergone significant changes over the last couple of decades, and two high-profile college football head coaches have situations that are, in one case, quite modern and in the other, old school beyond belief.
University of Florida football coach Urban Meyer first resigned, then switched to an indefinite leave of absence in response to stress-related health problems. Meyer, 45, has had incredible success that began at Bowling Green, then at Utah where he led the Utes to an undefeated season and a BCS bowl victory, and finally to the Gators, where he's won two national championships and is widely acclaimed as one of the very best in his profession.
Meyer is admittedly a Type A personality and is driven to 90-hour work-weeks. No detail is too small to merit obsessive worry. He has experienced headaches and chest pains for years, and needed to be hospitalized after Florida's loss to Alabama in the SEC championship game. What makes this story so modern is that Meyer had the option of resigning: He makes $4 million a year and is financially secure.
Back in the day, a stressed-out coach had no option but to keep working, even if it meant dying in the traces. Meyer will try to change his style and priorities, but that will be no easy task.
Then there's Texas Tech head coach Mike Leach, suspended last Monday, fired on Wednesday, while the school investigates his treatment of injured receiver Adam James.
James was diagnosed with a concussion, and then was forced to stand in dark, confined spaces for the duration of practice on consecutive days. He was told that if he left the enclosure he'd be dismissed from the team.
Adding to the idiocy, James is the son of former SMU running back Craig James, who is currently an ESPN analyst. Not only did Leach not seem to be aware of the current research on concussions, he's also taken on a kid whose family has resources, credibility and an implied platform. Leach's attorney is trying to spin the coach's treatment of James as some kind of therapy, but everyone around the situation understood that it was intended to be punitive and to serve as an example to others who might try to avoid practice after merely having their "bell rung."
Coaches may make a whole lot of dough, but the scrutiny and exposure make behaving like a sadistic despot hazardous to job security.
As both UH basketball teams begin conference play, both the men and the women are picked to finish dead last. But both have a chance to avoid that fate.
The Rainbow Warriors have survived a rash of injuries and should benefit from expanded playing time for the reserves. Coupled with the conference now appearing mediocre, a cohesive effort could put Bob Nash's team in the middle of the pack.
The Rainbow Wahine have been made road tough by first-year coach Dana Takahara-Dias. While not overly gifted, the team plays hard every possession and could avoid the bottom on sheer grit.
It'll be interesting to see what the rookie coach will be able to accomplish with a couple of recruiting classes under her belt.
Most Recent Comment(s):