Draft Day Glory Fades Away Fast

By
.(JavaScript must be enabled to view this email address)
Friday - May 05, 2010
|
Share

Del.icio.us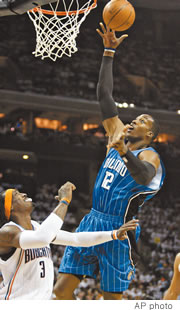 Regardless of the refs, Dwight Howard must stay out of foul trouble for the Magic to advance in the playoffs
Watching the exuberance of the 2010 NFL draftees, you can't help but think how many of those hopes shared by players, teams and fans will be dashed by the harsh realities of the league. Many of these instant millionaires will not be significant contributors.
When that player is a top selection like Jamarcus Russell was a couple of years ago, the damage to the franchise is huge. Not only have the Raiders frittered away millions of dollars, they have set the team back several years. It's possible that the Rams may get value for the $45 million or so they'll guarantee Sam Bradford, but there also is a chance that he won't work out, for whatever reason.
You'd think it would be a priority for the owners to come up with a smarter system than paying big bucks to unproven players. A rookie salary cap should be a priority in the upcoming labor negotiations.
And most veteran players will be just fine with that.
By now most of us are accustomed to the annual display of whining and moaning about NBA playoff officiating.
But this year it's so prevalent that commissioner David Stern has issued an ultimatum: Stop it or else.
And, while it's easy to dismiss most of the complaints as losers' laments, I actually think Orlando Magic center Dwight Howard may have a case. After fouling out four straight games in the sweep of Charlotte, Howard has been griping. But watching some of these games, he does seem to be whistled for ticky-tack fouls quite often. I don't think there is anything sinister going on, but Orlando had better find a way to keep Howard on the floor when they get to a better opponent.
It also seems that the anti-Kobe crowd is particularly active these days. While Bryant does have a lot of NBA miles on his legs, I think reports of his demise are greatly exaggerated. He can still go on scoring jags when he needs to. He may need to be more selective about when to kick it into fifth gear. If the first round is any indication, the intensity level of these playoffs should be a delight to watch.
Now that Tiger Woods will be playing in front of fans instead of patrons, you might expect the occasional bit of rudeness from those behind the ropes. But it does seem that the public has gotten somewhat bored with the circus. Tiger will still be a huge draw, but it will have more to do with his golf than his nocturnal adventures. Would you bet against him winning a major this year? No, I wouldn't either. And with Mickelson having returned to form, it seems reasonable to expect some drama at Pebble Beach and St. Andrews.
There might be no better time for Michelle Wie to step up her game. The recent retirement of No. 1 Lorena Ochoa has left a void in women's golf that comes at a difficult time.
They need a superstar, and Wie would be the answer to the LPGA's marketing prayers if she can elevate her play.
Most Recent Comment(s):