Draft to remember for 10 UH Warriors

By
.(JavaScript must be enabled to view this email address)
Friday - May 04, 2007
|
Share

Del.icio.us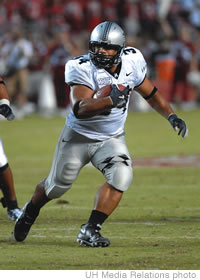 Reagan Mauia: Dolphins like big
An unprecedented 10 members of the 2006 Warrior football team will report to NFL mini camps this week. Five were draft choices, five signed free agent contracts.
Only six universities had more players drafted, and they are all BCS conference schools except for Notre Dame.
Each of the Hawaii players has a story, but perhaps the most dramatic is the journey of Reagan Mauia, the huge running back selected in the sixth round by the Miami Dolphins. Mauia arrived at UH two years ago as a 360-pound defensive tackle. Midway through the 2005 campaign, June Jones moved him to the offensive backfield.
"I saw that he had exceptional balance and quickness for a man of his size," says Jones. "I knew he would be a terrific blocker."
Mauia worked his way into some playing time at the end of his junior season, and was told to drop some weight. Through a strict diet, Mauia came to fall camp as a senior at 300 pounds, and proved to be a devastating blocker in UH's single back system. He would seem to be a natural as an NFL fullback, and the Miami Dolphins obviously agreed.
"When the Dolphins called him, they asked him how much he weighed," says KITV sports director and ESPN 1420 AM analyst Robert Kekaula. "When he told them he was down to 264 pounds, they said stop losing weight, go have something to eat! They want him big."
The Dolphins will employ a fullback, much like new coach Cam Cameron relied on Lorenzo Neal while he was the offensive coordinator for the San Diego Chargers. By drafting him, the Dolphins are telling Mauia that it's his job to lose.
"When I got the call about Reagan, " says June Jones, "I almost cried. What he has accomplished is just amazing."
The decision by the HHSAA to move girls basketball from spring to winter beginning with the 2008-09 season is the right one, and somewhat overdue. The move was practically forced when the Michigan High School Athletic Association lost a legal battle that lasted nine years and cost more than $1 million.
"We needed to get this done," says HHSAA executive director Keith Amemiya. "We don't have a million dollars to spend on legal fees."
Amemiya recognizes that the high school players will benefit from the move. The holdup was the concern about facilities.
"It will be a challenge, but we'll figure it out," he says.
The primary benefit will be to expose Hawaii's senior girls to college scholarship opportunities. If you ever wanted a career as a basketball official, now's the time to get started.
The Rainbow Wahine softball team wrapped up an outright WAC regular season title with a three-game sweep of Utah State in Logan. The Wahine will enjoy a bye this weekend, and then move into WAC tournament play in Fresno. Regardless of the outcome there, the Wahine are a lock for a bid to the NCAA tournament. The athletic department is submitting a bid to host in the regionals. That would produce the biggest crowd ever seen at the softball stadium and give fans a chance to see the best power-hitting team in the country.
Most Recent Comment(s):