Drafted Warriors Now Must Wait

By
.(JavaScript must be enabled to view this email address)
Friday - May 11, 2011
|
Share

Del.icio.us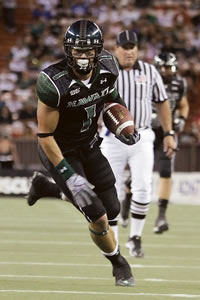 Greg salas is now a ram. File photo
It appears that the labor difficulties between the NFL and its players will not take another legal step until early July. The Eighth Circuit Court of Appeals in St. Louis will begin hearing the appeal in the first part of June, and a decision is expected to take at least a month. Even then, the court will only have decided on whether to uphold Judge Susan Nelson's decision to lift the lockout.
One side or the other will have additional leverage, and if the players prevail we'll have football but still no collective bargaining agreement. Both sides seem content to wait for the appellate decision before entering into serious negotiations. One set of victims here may be the class of undrafted free agents who will have to wait until football business resumes before they can sign with a club. It is already extremely tough to make it to the league from that category; the limited time frame may make it even more difficult.
Three former Warriors have spoken to NFL teams: safety Mana Silva, offensive tackle Laupepa Letuli and receiver Rodney Bradley.
Other victims of the labor strife are likely to be any team with a new head coach (San Francisco) or coordinator (Dallas) who will have a short time to install new schemes.
For veteran staffs with established schemes (New England or Pittsburgh), the lockout should inflict minimal damage.
Hawaii's drafted players are likely to get an excellent start on their financial futures. The best way to calculate what a player is likely to receive is to see what the player in that position was paid in last year's draft, which should put Alex Green, taken by the Packers at the end of the third round, at about $650,000. St Louis' mid fourth round pick Greg Salas should get roughly $575,000, and Carolina's fifth round pick Kealoha Pilares will make about $220,000 in guaranteed money.
The 20-pick difference between Salas and Pilares represents a fairly steep drop-off, but all of these players won't see the huge money until they earn a second contract.
What becomes dicey is that, if the lockout is lifted, there will be no caps but also no floors. Many observers think fear of losing on anti-trust with its automatic treble damages will keep the NFL from moving too far from the most recent contract levels.
But it's becoming increasingly clear that the start of the regular season is in danger.
Grave danger? As Jack Nicholson's character responded to Tom Cruise's military attorney in A Few Good Men when asked that question: "Is there another kind?"
* Do you think that the NCAA is out to witch hunt Boise State?
They've come up with "major violations" in women's tennis. The football program is being investigated for secondary violations, like a recruit sleeping on a player's floor on an unofficial visit and a player picking up a recruit's bill at IHOP.
Talk about reaching!
Most Recent Comment(s):