Empty stands in Ruston, Big Brown's destiny

By
.(JavaScript must be enabled to view this email address)
Friday - May 23, 2008
|
Share

Del.icio.us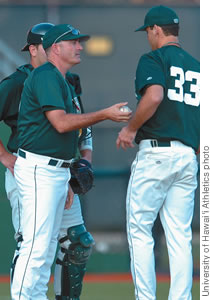 Coach Mike Trapasso: life without Alexanders
The WAC is throwing a party and nobody is going. The conference baseball tournament will take place at Louisiana Tech starting Thursday. It features the top six of the seven teams in the league. Unfortunately for the WAC, the lone team that failed to qualify is the host Bulldogs, which means that nobody will be in the stands, few people will buy tickets and the conference will take a financial bath.
College baseball is a tough sell in most parts of the country, and nobody thought this would be a windfall, but you hope to defray expenses for the cost of putting on a tournament. And this situation could have been avoided. One option is to give the host school an automatic berth and then take the next best five teams. That would keep the ease of scheduling you get with a six-team double elimination format. Another option would be just to include all seven teams - a little tougher to fit in, but you eliminate the risk of completely empty stands.
How many denizens of Ruston are going to pay to watch Nevada vs. San Jose State? You could give away a freshly slaughtered varmint with each ticket and they still wouldn't show.
Ironically the tournament will be unusually fair, with no team enjoying a home-field advantage. And the tournament is anybody's prize in the pitching-thin WAC. It may be a matter of survival as much as anything. Hawaii head coach Mike Trapasso will have to endure without anyone named Alex. Pitchers Alex Bates and Alex Capaul are injured, and Jared Alexander may not be ready to participate at all this weekend. It would be a good time for a shaky bullpen to step up.
Looks like we're going to have our first Triple Crown winner since Affirmed in 1978. Big Brown blew out the field at the Preakness, and jockey Kent Desormeaux didn't have to use all of his horse to do it. I'm looking for a performance to rival
Secretariat in 1973, when he was so far ahead in the home-stretch that it looked like he was running alone. A win at Belmont over the 1.5-mile track will be not only good for Big Brown, but for the racing industry, which is facing declining revenues and widespread criticism. If you get a chance to watch this race two weeks from Saturday, you'll see a truly special racehorse.
Punahou's outstanding year in high school sports seems to be fomenting the private vs. public debate. Granted, the ILH schools, particularly Punahou and Kamehameha, have some advantages in resources. But I can't find a public school coach or athlete who doesn't want a chance to compete against the best, regardless of league affiliation. And some of the great championships won by public schools resonate with us still; they are great and inspiring stories. We are all better served by the HHSAA tournament formats that give every outstanding team the opportunity to prove they are the best in the state.
Most Recent Comment(s):