Every Day There's A New Football Story

By
.(JavaScript must be enabled to view this email address)
Friday - August 26, 2009
|
Share

Del.icio.us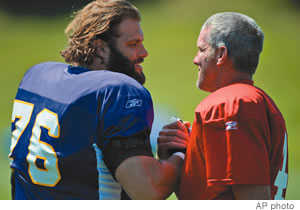 Steve Hutchinson greets new teammate Brett Favre on his first day in training camp with the Minnesota Vikings
Not a day goes by in the month of August without a proper football story, but last Monday was extraordinary. First, word that Brett Favre was talking again with Viking's head coach Brad Childress. Then reports that Favre was coming back followed by a story that he'd agreed to a two-year deal worth $25 million.
On Tuesday morning came the news that Favre was in the air, en route to Minneapolis, and later that he was at practice.
And then the most amazing piece of information: Favre would start for Minnesota in their Friday pre-season game against Kansas City.
Forget the waffling on retirement that dragged on for months. Think what it says about NFL training camps that a middle-aged man (40 in October) can have two full practices and start in a game at QB.
No wonder veterans complain constantly about training camp!
And maybe that was the key to Favre's indecision all along. As ESPN's Chris Mortensen put it: "Favre loves Sundays. He just hates the rest of the week."
Former Vikings legend Fran Tarkenton was brutal about Favre, saying his behavior had disrespected the Green Bay Packers and the game itself.
Eh, lighten up, Tark. The drama has given us all something to chew on this summer. And the Vikings are undoubtedly better with Favre than without him.
Favre doesn't have to do all the heavy lifting, just hand the ball off to Adrian Peterson and make the occasional big play.
And you have to believe that even casual fans will be glued to the tube when Minnesota goes to Green Bay, a Monday nighter on Oct. 5.
Now we'll see if Favre can stay healthy.
The UH Warriors are happy to break camp and are chafing to hit somebody other than teammates. The loss of linebacker Brashton Satele to a shoulder injury for the season means UH has the biggest rebuilding job on defense in the entire country.Only John Fonoti returns as a starter.
As we go to press, it looks like Hawaii may finally have the services of Blaze Soares, but his injury history makes you keep your fingers crossed.
In the secondary, Jeremy Bryant is stepping up at one corner while the other is still up in the air.Safeties Spencer Smith, Mana Silva, Kenny Ester and Aaron Brown have all had fine moments and should be in the mix.
Several names that will become familiar to Warrior fans: tackle Tuika Tufaga, linebacker Corey Paredes, and cornerback Richard Torres.
When Hawaii opens against Central Arkansas,pay special attention to special teams play.
If UH is going to exceed the expectations of the WAC media and national pundits, those units will have to excel.Punter Alex Dunnachie continues to impress. In addition to distance and hang time, his ability to spin the ball both ways is making his kicks a nightmare for returners.
Central Arkansas may turn out to be more of a test than many fans are looking for in the Aug. 29 opener. Quarterback Nathan Dick, a transfer from Arkansas, joins 14 returning starters for a team picked to win the Southland Conference.
Most Recent Comment(s):