Expect Unexpected With 96 Teams

By
.(JavaScript must be enabled to view this email address)
Friday - April 07, 2010
|
Share

Del.icio.us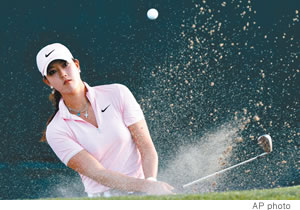 Michelle Wie needs to spend some time with the rule book
With another fabulous NCAA basketball tournament behind us, there is heavy speculation that the current format will expand, probably to 96 teams. There is no doubt that this is about money. CBS is reportedly bleeding red ink, and the only way the NCAA will be able to get this much money or more in the future is to offer more inventory.
Coaches generally seem in favor of the idea, believing that this will provide job security to a number of its membership; the conservatives say it will be the beginning of the end for one of the great spectacles in sport.
Both are wrong. First, while an additional 32 teams will be invited, possibly securing some jobs for at least another year, the pressure to make the tournament field will increase. Presently, not making the tournament occasionally for most schools is acceptable, or at least tolerable. With 96 invitees, that margin will go away.
Also, teams that get upset in the expanded first round by lower seeds will be vilified by their fan bases.
Ultimately, for the coaches, the expanded field will be a wash. For the doomsayers, the teams that play first will still be good but not great teams, and the basketball will be exciting. After one round, you'll be right where you start from now, and a number of those 32 games are likely to be nail-biters with all the drama we've come to love.
And remember, some were saying the previous expansions would lead to disaster. The sky isn't falling, and there will be more money for the NCAA and a better chance for CBS or another television entity to recoup its investment.
Michelle Wie's latest runin with the rules of golf has polarized Hawaii's golf fans, if radio phone callers are any indication. Many are decrying her apparent cavalier disregard for and knowledge of the rule book, feeling that she is not showing proper reverence for the game that's providing her with a queen's ransom.
People are questioning how someone as bright as Wie, who handled Punahou easily and just completed a 20-credit semester at Stanford, could fail to master golf's rule book. Turtle Bay director of golf Matt Hall had an interesting take: "Hawaii's junior golf program does a great job teaching the rules as a point of emphasis. While many young golfers were playing junior events, Michelle had already moved up. She kind of missed out on that." Very possibly true, but at this juncture it's hard to excuse a disregard for the rules. I hear the people who say she's still young at 20 and will make mistakes, and to an extent I agree that she is not a finished product, but Team Wie should treat this like a Stanford core requirement and ace this class.
The other indicator of immaturity was to claim she'd lost her balance and grounded her club, when video evidence shows that it was merely a reaction to a poor shot. Own the mistake and don't make excuses, and golf fans will be more forgiving.
The atmosphere should be electric at Augusta this week and will ramp up earlier than usual as the playing partners will be announced Tuesday.
Who will be grouped with Tiger Woods? A couple of prominent pros including Stewart Cink and Kenny Perry have said it would be fine with them, but the suspicion is that most players would rather avoid it.
Tuesday night's champion's dinner should be interesting, and most expect Woods will be greeted warmly. Now to see if all the hype hurts his game.
Most Recent Comment(s):